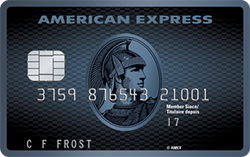 on American Express' website
The American Express Cobalt Card is one of the highest rated rewards cards on the market today. In fact, it's the winner of Simple Rate's Best Overall Credit Card Award. Targeted towards adventurers, foodies, and everyday spenders, the American Express Cobalt Card is a great option for those who enjoy experiencing culture through travel and dining, but also like to choose their spending wisely on-the-go and be rewarded for their purchases.
The AmEx Cobalt Card offers up to 5x rewards purchases on eligible dining purchases, including coffee shops and grocery stores. 2x rewards can be accrued on travel, lodging, and transit purchases within the program, including both Uber and Lyft purchases. Additionally, the card offers the traditional 1x reward point for each dollar spent that doesn't qualify for the special rewards.
Annual Fee: $120 (charged as $10/month)
Interest Rate: 19.99% APR
Min. Income Required: None
Why we like it: Earn up to 45,000 points in your first year, earn 5x points on food, grocery, and drinks. This is one of the largest welcome offers and points earn rates of any card on the market today.
Cobalt Card Features
In your first year as a new Cobalt Cardmember, you can earn 2,500 Membership Rewards® points for each monthly billing period in which you spend $500 in net purchases on your Card.
30,000 points is enough for:
An eligible short-haul flight using the Fixed Points Travel Program, or
$300 in statement credits redeemed towards travel purchases charged to your Card or
$300 worth of tickets on Ticketmaster.ca
Plus, when you apply by May 5, 2021, you can earn a Welcome Bonus of 15,000 Membership Rewards® points when you spend a total of $3,000 in purchases on your Card in your first 3 months of Cardmembership. This could add up to 45,000 points in a year.
• Earn 5x the points on eligible eats and drinks in Canada, including groceries and food delivery
• Earn 2 points for every $1 spent on eligible transit & gas purchases in Canada and eligible travel purchases. That's 2X the points on purchases that get you from point A to B
• Earn 1 point for every $1 in Card purchases everywhere else. We won't tell you where to spend, we'll just reward you on your Card purchases
• Cobalt Cardmembers receive regular Perks such as bonus reward offers and access to great events.
• Get advance access to tickets to some of the hottest concerts, shows and events through Front Of The Line® by American Express Invites® and advance screenings to blockbuster movies
Cobalt Card Perks
The American Express Cobalt Card offers many attractive perks for the cardholder. Details of many of the available perks for the card are laid out below.
The Cobalt Card Perks Program offers flash bonuses that give the opportunity to earn 10x rewards on specific purchases
Cobalt Card has collaborated with third parties to offer exclusive perks and benefits to cardholders. These perks may include deals, coupons, and special offers available only to Cobalt Card Perks members.
Early Access invitations for live concerts, promotional events, sports games, and many other experiences through Front of the Line by American Express
A mobile app that allows you to redeem points immediately for any of your eligible purchases. The mobile app allows you to enjoy simple and immediate savings on the go.
Travel insurance for your personal or business trips. American Express is well known for this feature, which offers protection in the event of unavoidable or unexpected circumstances in regards to your travel plans and/or travel accommodations.
The American Express Cobalt Card comes with the Amex Standard purchase protection, ensuring that all your purchases are secure while protecting your assets.
The Cobalt Card includes fraud protection to ensure that all of your purchases are truly your purchases. Any issues with fraudulent charges can be efficiently handled by calling American Express's 24/7 customer service support
The Cobalt Card offers rental car insurance. This perk offers protection in the event of theft, damages, or accidents, along with other service options
Annual fee of $120 is broken down into an easy-to-pay $10 monthly service charge
Add an additional card for your Cobalt Card at no cost
A competitive low APR of 19.99%
Should you get the American Express Cobalt Card?
As you can see from the listed perks and benefits of the card, there is much to be offered in regard to the annual service fee associated with the card.
The rewards offered by the American Express Cobalt Card are unique to this card, with a valuable rewards system suitable to an adventurer's lifestyle but also convenient for any individual who likes to experience travel, dining, and culture.
This card is marketed towards young adults who enjoy dining out and traveling, but there is no right or wrong age for the use of the Cobalt Card. Anyone who enjoys an active traveling or social life would ideally enjoy what this card has to offer. The rewards are the most beneficial for those who travel and actively socialize, but rewards are still available for other types of expenditures.
Rewards points can be redeemed on many different items such as food & drinks options, streaming services, flights, hotels, movie tickets, and more! These are available to redeem immediately from the app, making it convenient to use your rewards.
The card offers many convenient travel perks as well. Fraud protection, purchase protection, and rental car insurance are convenient travel options to protect your active life so you don't have to worry when you travel. American Express offers 24/7 customer service available to all cardholders. The customer service reps are professional, efficient, and helpful to the best of their abilities.
If you're a young Canadian or an adventurer at heart, the American Express Cobalt Card could be an ideal option for you. The Cobalt Card offers unique benefits for any situation, with no minimum income required and a competitively low APR.
With the AmEx Cobalt Card, adventure awaits!