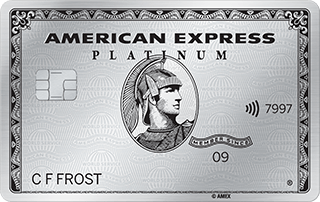 on American Express' website
Do you enjoy the finer things in life, such as travel and dining? Are you willing to pay a bit more in annual fees for exclusive services? If so, the American Express® Platinum card is their offer to Canadians like you.
The card requires a higher annual fee than others, but you'll benefit from concierge-level attention.
Annual fee: $699
Interest rate: 30% (This is a charge card, not a credit card. They expect balances to be paid in full monthly. If not paid, then they will apply a 30% annual interest rate.)
Min. Income Required: There are no stated income or credit score requirements. However, those with higher credit scores and higher incomes are more likely to be approved
Features of the American Express Platinum Card
Additional cards cost $175 for platinum, $50 gold annually
For every $1 spent on eligible travel, the member receives 2 points (2x)
Dining rewards are 3x points
Other purchases are 1 point for every $1
Concierge service 24/7 while traveling
Multiple types of protection while traveling: emergency medical assistance, trip cancellation and trip interruption insurance
Special Experience invites with seating in the front of the audience
Fraud protection guarantee
Bonus perks
25,000 bonus rewards points after spending $2,000 in the first three months of membership
Eligible to use private lounges in over 1200 airports across the globe
$200 CAD travel credit annually on eligible trips
Bonus points if travel secured through AmEx Travel americanexpress.ca/travel
Special treatment when flying through Toronto Pearson airport: Priority security lane,and free valet or 15% parking discount
Eligibility for hotel loyalty benefits: Hilton Honors Gold, Shangri-La Golden Jade, Marriott Bonvoy, Radisson Rewards
Hotel perks such as late checkout and free breakfasts at eligible hotels
Front of the line benefits for certain experiences
Review
There are several groups who would benefit from using this card. Its features and benefits make it more than just a travel rewards card.
Having said that, Canadians who spend a lot of time traveling will appreciate the travel benefits! In addition to the 2x travel points, those with this card receive special treatment at the Toronto Pearson airport, such as priority security lanes. Access to airline lounges around the world is also excellent for the weary traveler.
No matter where you are in the world, American Express is on call. Canadians who need or want concierge-level service, traveling or not, will enjoy this feature. There's front-of-the-line access to events and special invitations as well.
And finally, those who like to travel to out-of-the-way places might find the annual fee worth it for the emergency medical protection and trip insurance. Booking travel through American Express increases reward points too.
However, the annual fee is steep, even with the $200 travel credit. Canadians who probably would not benefit from using the card include those who don't travel or enjoy eating out, budget travelers, and those who like to "rough it" when they do go on trips.
Anyone considering this card should make sure their travel, dining, or experience needs are frequent enough to be worth it.
Click here to learn more and apply.
🏆 Winner of Simple Rate's Best Credit Card Award
The American Express Cobalt™ Card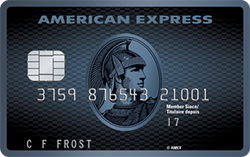 Get 30,000 rewards points, 5x points on food, groceries, drinks.