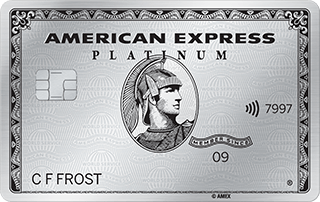 on American Express' website
Do you enjoy the finer things in life, such as travel and dining? Are you willing to pay a bit more in annual fees for exclusive services? If so, the American Express® Platinum card is their offer to Canadians like you.
The card requires a higher annual fee than others, but you'll benefit from concierge-level attention.
Annual fee: $699
Interest rate: 30% (This is a charge card, not a credit card. They expect balances to be paid in full monthly. If not paid, then they will apply a 30% annual interest rate.)
Min. Income Required: There are no stated income or credit score requirements. However, those with higher credit scores and higher incomes are more likely to be approved
Features of the American Express Platinum Card
Additional cards cost $175 for platinum, $50 gold annually
For every $1 spent on eligible travel, the member receives 2 points (2x)
Dining rewards are 3x points
Other purchases are 1 point for every $1
Concierge service 24/7 while traveling
Multiple types of protection while traveling: emergency medical assistance, trip cancellation and trip interruption insurance
Special Experience invites with seating in the front of the audience
Fraud protection guarantee
Bonus perks
• Unlock special experiences with the Platinum Card
• As a New Platinum® Card Cardmember, you could earn 50,000 Welcome Bonus points when you charge $3,000 in purchases to your Card in the first three months of Cardmembership
• Earn 3 points for every $1 in Card purchases on eligible dining in Canada, 2 points for every $1 in Card purchases on eligible travel, and 1 point for every $1 in all other Card purchases
• You will have access to a $200 CAD Annual Travel Credit to use towards any single travel booking of $200 or more charged to your Platinum Card and made on www.americanexpress.ca/travel or through Platinum Card Travel Service
• Take full advantage of The American Express Global Lounge CollectionTM which unlocks access to over 1200 airport lounges worldwide. This includes The Centurion® Lounge network, Plaza Premium Lounges, and hundreds of other domestic and international lounges designed to enhance your travel experience
• Enjoy complimentary benefits that offer an average value of $550 USD at over 1,000 extraordinary properties worldwide when you book Fine Hotels & Resorts
• Platinum Cardmembers can enjoy access to special events and unique opportunities
• Enjoy premium benefits at the Toronto Pearson Airport such as discount on parking
• You will also have access to many leading hotel and car rental companies' loyalty programs. Our partners include Marriott International, Hilton Hotels and Resorts, Radisson Hotel Group, Hertz and Avis
• As a Charge Card, the balance must always be paid in full each month. 30% annual interest rate applies to balances not paid in full. Payments must be received and processed by the date of the next monthly
statement to avoid interest charges
• American Express is not responsible for maintaining or monitoring the accuracy of information on this website. For full details and current product information click the Apply now link. Conditions apply
Review
There are several groups who would benefit from using this card. Its features and benefits make it more than just a travel rewards card.
Having said that, Canadians who spend a lot of time traveling will appreciate the travel benefits! In addition to the 2x travel points, those with this card receive special treatment at the Toronto Pearson airport, such as priority security lanes. Access to airline lounges around the world is also excellent for the weary traveler.
No matter where you are in the world, American Express is on call. Canadians who need or want concierge-level service, traveling or not, will enjoy this feature. There's front-of-the-line access to events and special invitations as well.
And finally, those who like to travel to out-of-the-way places might find the annual fee worth it for the emergency medical protection and trip insurance. Booking travel through American Express increases reward points too.
However, the annual fee is steep, even with the $200 travel credit. Canadians who probably would not benefit from using the card include those who don't travel or enjoy eating out, budget travelers, and those who like to "rough it" when they do go on trips.
Anyone considering this card should make sure their travel, dining, or experience needs are frequent enough to be worth it.