Credit improvement isn't only for people with bad credit. Unless you have a perfect score, it always helps to continuously increase your score. A higher credit score can impact everything from applying for a credit card, mortgage, or even renting an apartment.
There are many tools out there for Canadians that can improve credit scores quickly by 50 to 100 points. These aren't credit repair companies that you have to pay, they're tools that help increase your credit score, whether it be bad or good. We analyzed dozens of the best credit improvement tools, and rated the best ones below.
Best For fastest, easiest solution
Refresh Secured Card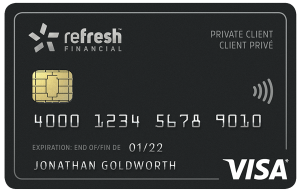 on Refresh's website
Credit Limit: $200 - $10,000
Annual Fee: $12.95 + $3/month maintenance fee
Interest Rate: 17.99%
Min. Income Required: $0
* This card is owned and issued by Digital Commerce Bank pursuant to license by Visa International. Use of the card is governed by the agreement under which it is issued. The Visa Brand is a registered trademark of Visa International. All credit and approvals are provided by Refresh Card Solutions Inc. Digital Commerce Bank provides no credit or loans. All funding and lending for this program is provided by Refresh Card Solutions Inc.
If you're looking for the fastest results, you can be approved for a Refresh Secured Card instantly with guaranteed approval, with no credit check required. They'll report to all major credit bureaus in Canada, and you can deposit up to $10,000 onto your card. If you're looking for a quick, simple tool without the complications and extra steps, this could be the ideal option for you.
*This card is owned and issued by DirectCash Bank pursuant to license by Visa International. The Visa Brand is a registered trademark of Visa International.
Click here to learn more about the Refresh Secured Card
Best For shopping online
Fingerhut
How it works:
Fingerhut is an online marketplace with millions of customers, established in 1948 and owned by Macy's. It lets customers shop on their platform, like they would on Amazon. However, instead of using your own cash, you pay using credit borrowed from them. When you pay off your balance, they help improve your credit by reporting your account to all 3 credit agencies. It's a great way to increase your credit score simply by doing your shopping on another platform.
Application process:
Signing up is completely free, and instant. Just make an account and start shopping.
Credit score improvement rate:
You can expect to increase your credit score by around 20 to 50 points in 30 days or less.
Best For renters
RentReporters
How it works:
Renters have one disadvantage over homeowners. While prompt mortgage payments allows you to build credit, paying rent on time is never reported to credit agencies. RentReporters changes that by reporting your rent payments to credit agencies. Not only that but they'll also report the past 24 months of payments prior. What makes Rent Reporters the top choice out of other rent reporting companies is that they report to two credit bureaus (Equifax and TransUnion), while most report to only one. You also don't need to pay rent online or change the way you pay your rent.
Application process:
RentReporters costs $9.95 per month. You also need to pay a $94.95 setup fee + $50 for adding previous landlords (if you want to report past payments from other residences). While the setup fee may seem expensive, it's a convenient way to improve your credit score without doing much extra.
Credit score improvement rate:
You can expect an average score increase of 40 points in just 10 days.
Best For credit building secured credit card
Open Sky Secured Credit Card
How it works:
The Open Sky Secured Credit Card is perfect for people with zero, low, or bad credit scores. A secured credit card works differently than traditional credit cards. You need to fund a security deposit first, which is held in case you don't pay off your bill. This is totally reasonable since companies don't have a strong credit score to trust you with yet. The unique feature of Open Sky is that anyone can be approved. They don't do any credit checks, and you don't need a bank account either. If you don't have a bank account, you can choose to pay off your bill through money order or Western Union.
Application process:
The application process for the Open Sky credit card is unlike the traditional credit card application process. There is no credit check, almost instant approval, and no bank account needed. Additionally, the annual fee to be a cardholder is only $35. The security deposit to start using the card is $200. When you close your account, it will be refunded to you.
Credit score improvement rate:
You can improve your credit score by 20 to 50 points in just 30 days of using the card.
Best For free credit score checking & monitoring
Credit Karma
How it works:
Getting access to your credit score used to be a confusing process that most people did not know how to do. You had to pay each time you checked, which made it expensive and almost impossible to monitor regularly. Oftentimes, outstanding payments that go to collections will go unnoticed for months or even years (depending on how often you used to check). Credit Karma is the easiest and fastest way to get access to your credit score for free. You can log in anytime, and check how your score is doing. Credit Karma gives you access to your Vantage 3.0 credit score, but you can also access your entire report from other credit bureaus like Transunion and Equifax.
Application process:
Credit Karma is 100% free for everyone. You'll need to provide your SSN and credit information, as you would when accessing your credit score from agencies.
Credit score improvement rate:
Credit Karma is a credit checking and monitoring tool so while it won't directly improve your credit score, it will help you monitor your progress in increasing your score with the other tools in this list.
Best For loan solution
Refresh Financial


Refresh Financial offers loans with the specific purpose of rebuilding your credit score. Through their Credit Builder program, you can apply for a credit builder loan up to $25,000 at an interest rate of 19.99%. You can access the money at any time, and the payments are reported to the credit bureaus – helping you build your credit file, and helping you qualify for better loans over time. In addition to offering a credit building loan, Refresh Black Tier subscription comes with credit monitoring and alerts, credit simulators, financial education, and perks at over 600 Canadian retailers. These tools are designed to help you monitor your credit, save money, and learn how to build a better financial future.
Best For credit card debt
Tally
How it works:
If you need help paying off your high interest credit cards, Tally is an automated tool that gives you a line of credit, analyzes your cards, and allocates your credit card payments efficiently so you don't accrue interest charges. Your credit card debt is paid off using Tally's line of credit, and you pay your debt to Tally instead, which offers a lower interest rate. It's perfect for people with credit card debt, or people who carry multiple cards and need help tracking balances, payments due, and figuring out which ones to pay off first.
Application process:
Signing up is free and there are no fees to use Tally. What you pay is the APR towards the Tally line of credit that you receive. Depending on your credit history, this can be as low 7.9% compared to the 20% fees charged by most credit cards.
Credit score improvement rate:
Paying off your credit card balance in full and on time can make a major improvement to your credit score and prevent it from getting any worse with each late payment.
Conclusion: Methodology
There are many different Canadian credit improvement tools out there, and various things you can do to increase your credit score. The companies listed were selected after comparing dozens of different tools and companies out there. The main things we looked at were ease of use, user reviews, reputation and trust score, how much and how fast your credit score can be improved, and low minimal fees to get started and to continue being a user.
Borrow up to $50,000
Fast approval. Free to apply. Get up to $50,000 today.