Life without a credit card is challenging. It's more than a plastic card that pays for gas, groceries and your Tim Horton's coffee. A credit card is a gateway to all kinds of financial services like a mortgage or loan to help you afford big expenses – a house, apartment, car – at a low interest-rate.
But there's a catch. To be eligible for a good credit card with a low interest rate and an attractive pack of insurance, benefits, and rewards, you must already have a stellar credit score. But for people who have never owned a credit card before, or those with poor credit scores, qualifying for a top quality credit card is almost impossible. This is where secured credit cards can help.
A secured credit card is a type of credit card that requires you to place a refundable security deposit as collateral. It gives lenders the confidence that you will be able to pay them back. The amount you place as the deposit becomes your credit limit. Just like a traditional, non-secured credit card, you do have to make monthly payments to avoid penalty. If you want to cancel your card to upgrade to a non secured one, you will get your security deposit back provided you pay your balance in full.
With a secured credit card, you get to establish a pattern of healthy borrowing habits, which progressively boosts your credit score overtime because the provider reports your payments and balance to credit bureaus.
Now that you know the basics, let's look at the some of the top secured credit cards to rebuild your credit in Canada today.
---
QUICK LINKS:
If you're looking for a solid secured credit card with low annual fees, then check out the Refresh Secured Card.
If you're looking for a secured credit card that will give you points back on your purchases, then check out the Neo Financial Secured Mastercard.
---
Best overall secured card in Canada: No credit check, guaranteed approval
The Neo Secured Credit Card is a strong contender for those who want to rebuild their credit, don't have a lot of funds to secure, and want to earn competitive rewards.  This card offers guaranteed approval with no hard credit check and a minimum security deposit of just $50. It doesn't matter if you have bad credit or no credit at all, everyone is eligible as long as they are a Canadian resident and the age of majority in their province. 
Neo Financial offers their secured card with no annual or monthly fees. As a welcome offer, you'll get a one-time 15% cash back reward if your first purchase is with a Neo partner retailer, then up to 5% cash back at partner retailers to a maximum spend amount of $5,000 per month. There is a unique rewards feature that guarantees a minimum 1% cash back rate. If your average cash back is below 1%, Neo will top you up. You can redeem your cash back whenever you want, there is no minimum redemption amount, and you choose how you want to redeem them. 
The interest ranges from 19.99 – 24.99% depending on your creditworthiness. The Neo Financial Secured Card is available as both a physical credit card and a digital credit card. Through the app you can see your balance, make payments, track spending, and access credit card management tips. 
While there is no limit on the amount of cash back rewards you can earn, there is a maximum eligible spend amount of $5,000 per month. The Neo Secured Card does not offer other perks like insurance or extended warranty on
If you're looking for a secured card with guaranteed approval, you can be approved for a Refresh Secured Card instantly, with no credit check required. You can deposit anywhere from $200 to $10,000, and can use your secured credit card anywhere that visa is accepted. The card comes with a small monthly maintenance fee of $3, and they report to all major credit bureaus in Canada. If you need to fix/build your credit and need a card quickly, and want to avoid credit checks, the Refresh Secured Card is a solid choice.
*This card is owned and issued by DirectCash Bank pursuant to license by Visa International. The Visa Brand is a registered trademark of Visa International.
Click here to learn more about the Refresh Secured Card
Best secured credit card for earning rewards
The first but not the only secured credit card in Canada that comes with a welcome bonus, referral program, and a rewards program. Secured cards don't usually offer rewards on your purchases, but Plastk will give you 1% back on all purchases with no cap on how much you can earn. You'll also get a 5000 point welcome bonus, which is equivalent to $20.
Students who sign up for the Plastk secured card will have the annual fee and monthly maintenance fee waive for the first year. All Plastk cardholders enjoy a 25 day interest free grace period on purchases, and a 3 day interest free grace period on cash advances. Plastk comes with an app available in the App Store and Google Play that allows you to see your balance, transaction history, and make payments. Plastk Sentinel is a subscription service that allows you to monitor and track your credit with full access to your credit report.
Best secured credit card with no annual fee
Home Trust Secured Visa (No Annual Fee Option)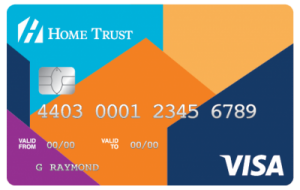 on Home Trust's website
Credit Limit: $500 – $10,000
Annual Fee: $0
Interest Rate: 19.99%
Min. Income Required: Provable income
The Home Trust Secured No-Fee Visa card is a great option for those considering to re-establish their credit from the ground up. To be eligible you must be the age of majority in your province and not in active bankruptcy; you'll need to be fully discharged before you apply. While there is no minimum income amount disclosed, you must have a source of income to qualify.
One of the best features of this secured credit card is it has no annual fee, one of the few secured cards on the market that you can use for free. Annual fees can be jarring on the wallet, especially if your main concern is paying off your debt and improving your credit health. You can immediately start using this credit card if you have enough funds to meet the minimum required deposit of $500. This card comes with a purchase interest rate of 19.99%, but it also gives you a non-interest grace period of 21 full days after the due date.
When it comes to monthly payments, there are two options – you can pay the balance in full, or pay 3% of the new balance shown in your monthly account statement or $10 (whichever is greater).
The HomeTrust Secured No-Fee Visa requires a $500 minimum deposit and allows up to $10,000 deposit, with the credit limit escalating in a one to one ratio from $500 to $10,000. This means a $500 deposit will give you a $500 credit limit. If you cancel your credit card, your security deposit will be reimbursed in full as long as you clear any outstanding bills.
Best Secured Credit with Lowest-Security Deposit Requirement
Capital One Guaranteed Secured Mastercard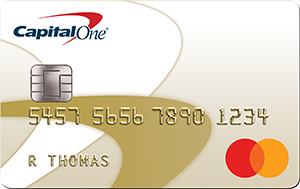 on Capital One's website
Credit Limit: $75 – $2,500
Annual Fee:$59
Interest Rate:19.80%
Min. Income Required: $0
Staying true to its name, the Capital One Guaranteed Secured Mastercard approves almost every applicant provided they meet a few eligibility requirements and can place a security deposit. The size of the security fund you are approved for will depend on your current credit score and a few other criteria. But, you can qualify for a deposit as low as $75 and as high as $300. The great thing about the Capital One card is that your credit limit doesn't necessarily depend on the size of your deposit. Your credit limit could be much higher than your required security deposit depending on your credit score and financial situation.
This card is fantastic for users who want a credit card instantly but don't have a lot of funds to make their security deposit. Also, here's the good news for those with a damaged credit history– if you consistently pay your bills, Capital One will quickly report your positive performance to the major credit bureaus which will ensure that your credit score improves fast as well.
Capital One's Guaranteed Secured Mastercard comes with an annual interest rate of 19.8%. To avoid paying interest, please pay your balance in full. As a perk, this card comes with a Zero Liability feature which covers you against unauthorized or fraudulent purchases.
Best Secured Credit Card with Low Interest
Home Trust Secured Visa (Low-Rate Option)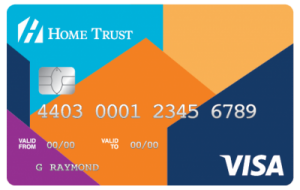 on Home Trust's website
Credit Limit: $500 – $10,000
Annual Fee: $59
Interest Rate: 14.90%
Min. Income Required: provable income
The Home Trust Secured Visa is similar to its No-Fee version in most aspects, except it gives the users a lower interest rate of 14.90%, making it perfect for people who are prone to carry a balance month-to-month.
This card has an annual fee of $59.00 which can be paid in lump-sum, or you can choose to opt for a monthly payment of $5 per month. Do note that this will make your annual fee $60 in total. Also, there is a grace period of 21 days after the due date to pay off your balance without being charged interest.
The minimum and maximum credit limit for the Home Trust Secured Visa is $500 to $10,000. To increase your credit limit, just send additional funds to Home Trust as a security deposit.
Everyone over the age of majority in their residential province (except Québec) can qualify for this card, except those who are currently in bankruptcy. If you have had a past bankruptcy but are cleared now, you will still qualify. While there is no minimum income amount disclosed, to be eligible you must have a source of income.
Best Prepaid Card for Travelers
This isn't your traditional secured credit card, but it offers the same features and is targeted towards those with a poor credit score. The BMO Prepaid Card, sometimes called the BMO Travel Prepaid Mastercard, is a bank-issued prepaid card that lets you load the card with your own money. The amount you deposit establishes your credit limit. But unlike a credit card, you're not actually borrowing money. The cash you load onto the card is available to spend, like a debit card attached to a bank account.
The BMO Prepaid Card is not an actual credit card, so there is no credit check required to sign up and your card activity is not reported to the credit bureaus. As you spend the funds you pre-loaded onto the card, your balance will decrease. You don't owe a balance to a creditor, which means you purchases are not subject credit card interest. Using this card will not help you improve your credit score. However, you will enjoy other features that make this card a good alternative to secured credit cards.
The BMO Prepaid Mastercard is great for travelers because it is accepted at the same 30 million locations that accept traditional Mastercards. You can also withdraw your pre-paid funds from over a million ATMs.  This card is safer than carrying cash because it comes with built in security features to protect you from fraudulent charges and identity theft. If your card is lost or stolen, bad actors cannot a run up a balance that could damage your credit score and leave you in debt. They only have access to the funds you loaded onto the card, and it's not connect to your personal bank accounts.
The annual fee for this card is $6.95, and it has no interest rate for purchases. There are no card balance minimums or maximums for BMO account holders. If you don't have a BMO account, the most you can load onto this card is $1,000. You can withdraw cash or make purchases in any store that accepts Mastercard. It also comes with a zero liability policy which is a security feature to protect you against fraud.
There are other features you can add on to make your credit card comprehensive. Credit Alert is one of them. With this feature you will receive an updated credit score every three months. The Canadian Credit Bureaus will also monitor for suspicious changes. The two other add-ons available– InfoProtector 360™ which protects you, your documents and devices from being accessed by third-parties; BMO Roadside Assistance which provides free battery boosts, lockout and towing services, and flat-tire change throughout Canada and Continental U.S.
The KOHO Prepaid Mastercard® is not a secured credit card but there are a few features that make this card a strong contender. Unlike other prepaid cards that don't impact your credit score, KOHO offers a Credit Building program available to cardholders through a subscription. For $7 a month, KOHO will report that payment to the credit bureaus to help build, or rebuild, your credit score. All you have to do is deposit $7 into your Spendable account each month and they do the rest. 
The Credit Building program lasts for six months, and you have the choice to re-subscribe for another six months. You can choose to pay $7 a month, or a total upfront payment of $42. The KOHO Credit Building program is a great low-cost alternative to a secured credit card that requires a cash deposit, or a high interest credit building loan. This card is accessible to more people because there is no income or minimum credit score required to qualify. 
The KOHO Prepaid Mastercard® is not a credit card product so there is no credit check required, and anyone can get it as long as they are the age of majority in their province. Instead of borrowing money every time you use the card, then owing a balance on a credit account, you load the card with money from your own bank account. Also, you'll never pay interest with the KOHO card. There is no minimum balance, but there is a maximum card balance of $20,000. 
The standard KOHO Prepaid Mastercard® offers many of the same features and benefits of a standard credit card and bank account, blended into one product. It's essentially free to use, with the option to subscribe to a premium package to unlock more features and better cash back rewards. All card purchases earn a minimum 0.5% cash back and up to 5% cash back when you shop with a KOHO partner retailer. The money you load onto your card also earns interest at 1.2% per year. It's calculated daily and paid out to your account once a month. 
---
What is a secured credit card and how does it work?
Regular credit cards don't require any collateral from cardholders. You spend the money, and they don't have anything to hold against you if you decide not to pay. That's why regular unsecured credit cards have such high interest rates on late payments.
A secured credit card has one very distinct quality that makes it different than a regular credit card. Instead of paying with credit and paying back your balance, you'll need to make a cash deposit first. However much you deposit into the card becomes your spending balance.
What's the point in getting a secured credit card? Who should get one?
Even if you have a bad credit score, there are still many great regular credit cards to rebuild your credit in Canada. But if you are declined from other regular credit cards, you should use secured credit cards. The only goal of getting a secured card is to improve your credit score in order to apply and get approved for a regular card.
Your secured credit card will report all of your payments to the major credit bureaus in Canada. If you use your card responsibly for several months (or several years if your credit score is very low), you'll later be able to upgrade to an unsecured credit card.
Methodology: How We Choose The Cards In This List
The credit cards mentioned above are chosen upon assessing and comparing its features such as annual fee, security deposit, eligibility requirements, interest rates and more against every available secured credit card option available in Canada today.