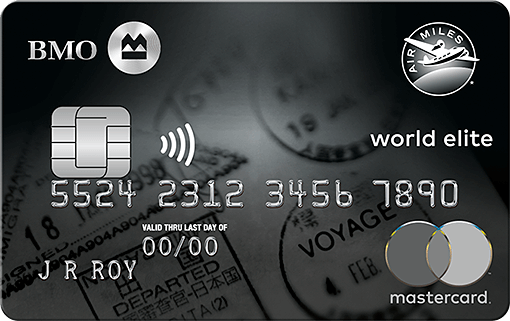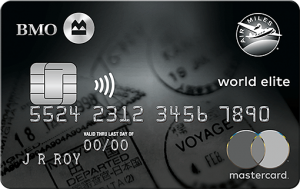 on BMO's website
There are Air Miles, and then there are World Elite Air Miles. The BMO AIR MILES World Elite Mastercard has the best Air Miles earn rates of any card in Canada and offers all the exclusive VIP travel perks you'd expect from an Elite credit card.
Get welcomed to BMO with up to 2,000 AIR MILES bonus when you sign up, and the annual fee of $120 waived for the first year.
Annual Fee: $120
Min. Income Required: $80,000 annual personal income or $150,000 annual household income
Interest Rates: 19.99% (Cash advance 22.99%)
Air Miles Earn Rate: 1 mile for every $10 spent on every card purchase
Additional Card: $50
Elite Travel Benefits
The BMO AIR MILES World Elite Mastercard is loaded with travel perks and benefits, and with bmorewards.com you can easily cash out your rewards or book and redeem travel, anytime, anywhere without restriction. You can also book discount flights, hotels, and rental cars, or even plan your entire vacation from the website. Other travel benefits include:
Earn 15% flight discount on all AIR MILES flights in North America with no blackout periods
Earn 2X the reward miles at National Car Rental
Complimentary MasterCard Airport Experiences with access to over 850 VIP lounges
Two annual complementary LoungKey passes
Earn up to a 25% discount at participating National Car Rental and Alamo Car Rental locations
Free trip cancellation insurance
Free purchase protection against theft or damage for 90 days
Earn AIR MILES on Everyday Purchases
BMO offers one of the largest loyalty programs in Canada, and that means you earn more miles on everyday purchases at national retailers such as Costco, Staples, Transat, and Shell. You can also earn miles at participating grocery stores. Here's the numbers on your AIR MILES rewards:
Earn 1 mile for every $10 in credit card purchases
Earn twice the miles when you show your card at AIR MILES partners
Earn additional AIR MILES points for purchases charged to Supplementary Cards.
Conclusion
The BMO AIR MILES World Elite Mastercard is one of the best cards for world travelers, offering the best earn rate on Air Miles and some terrific perks.
On top of the best-in-class AIR MILES rewards benefit, you'll also get a slew of VIP travel perks with this card.
MasterCard Airport Experiences by LoungeKey
2 Complimentary Lounge Passes
Complimentary food and beverages in over 850 VIP lounges
Enjoy discounts and exclusive offers on dining & entertainment
Free Trip Interruption Insurance
Free Trip Cancellation Insurance
Free 24/7 BMO Concierge Service
Free Rental Car Collision/Damage Insurance
Free Personal Effects Theft/Damage Protection
Free 15 Days of Emergency Medical Insurance
The BMO AIR MILES World Elite MasterCard is arguably the best AIR MILES card in Canada, offering an extraordinarily high earn rate, great sign-up bonus, and impressive travel perks and discounts.
Even if you already have an everyday card, if you want a great air miles travel card with exceptional perks and benefits, give this one a long, hard look.
You'll also get benefits and special offers to popular apps and digital subscription services. Get access to over 1 million Wi-Fi hotspots around the world – all at no added cost, and no added fees or roaming charges.