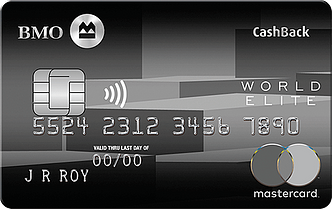 on BMO's website
It's a great time to travel, and if you also love the value that comes with cashback rewards on an international travel-rewards card, then you need to check out the BMO CashBack World Elite MasterCard.
New cardmembers are welcomed with 10% cash back on the first $2,000 in purchases over the first three months, along with a waived $120 annual fee.
Annual Fee: $120
Min. Income Required: $80,000 annual personal income or $150,000 annual household income.
Interest Rates: 19.99% (Cash advance 22.99%)
CashBack Rate: 1.5% on all purchases
Additional Card: $50
Valuable Travel Benefits
The BMO CashBack World Elite Mastercard is loaded with perks and benefits, and you can easily cash out your rewards or book and redeem travel, anytime, anywhere without restriction. You can also book discount flights, hotels, and rental cars, or even plan your entire vacation from the website. Other travel benefits include:
10% CashBack on balance transfers and purchases for the first 3 months
No caps or limits on CashBack rewards
Free membership and roadside assistance with DAA
Complimentary MasterCard Airport Experiences with VIP access
Four annual complementary LoungKey passes
Up to $2 million in free out of province/out of country emergency medical protection
Free collision damage waiver on rental cars
Free purchase protection against theft or damage for 180 days
More cash back rewards
Earn more cash back rewards by using your card for everyday purchases on eligible products and services and accumulate more rewards.
Spend $2,500 monthly on card purchases and earn $450 cash back annually.
Unlimited CashBack with no caps, tiers, or categories, and no limit on the amount of CashBack you can earn.
Easy CashBack redemption process with earnings automatically added to your statement each month.
Earn additional BMO Reward points for purchases charged to Supplementary Cards.
Conclusion
The BMO CashBack World Elite Mastercard is a perfect choice for Canadian travelers seeking a good cash back rate and elite travel perks.
On top of the unlimited cash back reward benefit, check out the host of freebies you get with this card:
Free Emergency Travel Insurance
Free DAA Roadside Assistance
Free Purchase Protection
Free Rental Car Collision Coverage
Free BMO Concierge Service
Free Rental Car Collision/Damage Insurance
Free Personal Effects Theft/Damage Protection
Free VIP MasterCard Airport Experiences
With top-level security features such as PIN-protected microchip technology, smart-pay options, and an internationally recognized card backed by the power of Mastercard, the BMO CashBack World Elite MasterCard offers travelers all the benefits of a top-tier every day bank card with exceptional travel perks and CashBack rewards that stand out from the competition.
The value received by new cardmembers in the form of welcome rewards, 10% initial cash back, and waived annual fee for the first year, coupled with all the travel protection you want from an international credit card, should prompt Canadian travelers to give this card strong consideration.
You'll also get benefits and special offers to popular apps and digital subscription services. Get access to over 1 million Wi-Fi hotspots around the world – all at no added cost, and no added fees or roaming charges.