For most Canadians, the best rewards program are those that offer points on common spending categories, and gives them the flexibility to redeem rewards in multiple ways.
BMO Rewards is the main loyalty program of Bank of Montreal, and enjoys a loyal following from millions of Canadian shoppers who love it for its flexibility in terms of both reward structure and redemption.
How do you earn BMO Rewards Points?
To earn BMO reward points, you need to qualify for one of their two BMO Rewards Credit Cards – BMO Rewards Mastercard and BMO World Elite Mastercard (which happens to be one of the best travel rewards credit cards in Canada today). The points earned can be used on flights, hotel,  cruise, giftcards, merchandise and exclusive experiences.
Let's quickly take a look at the reward structures of both BMO reward credit cards:
BMO Rewards Mastercard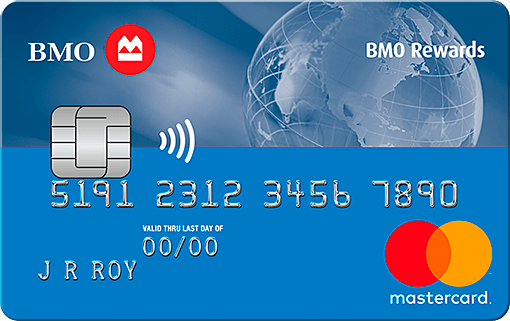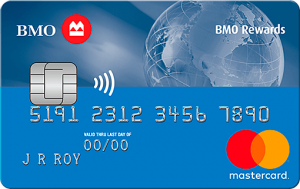 on BMO's website
Signup bonus
Unlock 10,000 BMO Rewards Welcome Points just for signing up and meeting a few spending requirements– get 10,000 BMO points after your first purchase, receive the remaining 10,000 after spending at least $1,000 within the first 3 months of account opening.
Earn 1 BMO Rewards Point for every $1 spent through the card.
Earn 2X BMO Points and get up to 25% off when paying for rentals at National Car Rental and Alamo Rent A Car Locations using your BMO rewards credit card.
Enjoy Purchase Protection and Extended Warranty on most items purchased through your BMO Rewards Mastercard
BMO Ascend World Elite Mastercard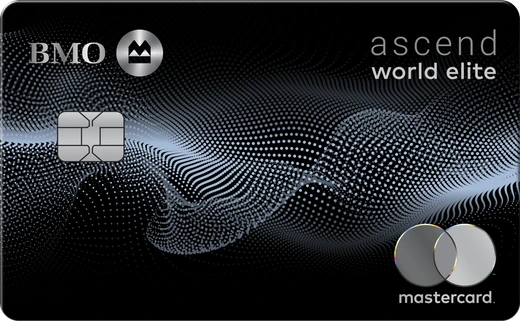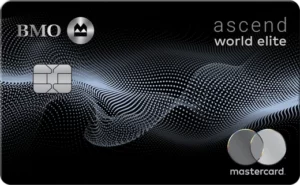 on BMO's website
Signup bonus
Get up to 60,000 points and the annual fee waived in the first year for both the primary cardholder and authorized users.*
Get 5x BMO Reward Points for every $1 on eligible travel purchases.
Get 3x BMO Reward Points for every $1 on eligible dining and entertainment purchases and recurring bill payments.
Complimentary membership in Mastercard Airport Experiences provided by LoungeKey, exclusive VIP access, and 4 annual complimentary passes.
Purchase Protection and Extended Warranty available in most items purchased through BMO World Elite Mastercard.
Enjoy BMO World Elite Total Travel and Medical Protection which includes car rental collision damage coverage, out-of-province/out-of-country emergency medical protection up to $2 million.
For a detailed look at the perks and benefits offered by these cards, please read our in-depth BMO Rewards Mastercard Review, and BMO World Elite Mastercard Review.
The Value of a BMO Rewards Point
BMO Rewards Points can seem arbitrary unless you have a concrete value for them. The specific value hidden within each rewards point depends on the redemption option:
Redeeming for travel- 1 BMO point is worth 0.71 cents
Redeeming for investments- 1 BMO point is worth 0.67 cents
Redeeming for gift cards- 1 BMO point is worth 0.56 cents
Redeeming for merchandise- 1 BMO point is worth 0.54 cents
Redeeming for experiences- 1 BMO point is worth 0.65 cents
Redeeming for cash- 1 BMO point is worth 0.33 cents
Now that we know the average value of a BMO point for each redemption option, let's look at how to redeem your rewards.
Redeeming BMO Reward Points
To redeem your reward points, log into your BMO rewards account. You can use their online travel agency to make your reservations. Or redeem it for gift cards, merchandise, experience, investments, and even cash credit (we don't recommend this due to low dollar value per point). But, as you can see from the value structure above, the best value lies in spending your points for travel. Note that, 14,000 points is equal to $100. So if your plane ticket cost $1000, you will need 1,40,000 points to be able to pay for your flight info. At the time of booking, if you don't have many points available, you can use as many points as you do have to pay for your airfare and meet the difference with your BMO credit card.
Although you can only make your Travel booking through BMO rewards travel agency, do know that there are no seat restrictions, or blackout dates limiting your choice. You can travel at any time of the year or even during peak season and your travel arrangements will be treated just like any other reservation at any other time of the year. Also, you are not restricted to any hotel chain or airline.
And, as long as you charge your travel expenses to your BMO credit card,  you'll even receive priority seating and insurance coverage such as travel medical insurance, flight delay/cancellation or lost/delayed baggage and more depending on which BMO rewards credit card you choose.
5 Ways To Maximize Your BMO Rewards
1. Pick the right rewards credit card
As mentioned above, there are two BMO Rewards credit card available: BMO World Elite Mastercard and BMO Rewards Mastercard. BMO World Elite offers a significantly larger welcome bonus points reward than BMO Rewards credit card. But it does come with a high annual fee of $150 (waived for the first year). BMO Rewards does not have an annual fee. There is also a big difference between how many rewards point each card offers you per dollar – you earn 2 points per $1 with BMO World Elite, and only 1 point per $1 with BMO rewards Mastercard. The secret to earning most rewards with BMO is to accumulate as many points as you can, and if point collection is your main goal then BMO World Elite Mastercard is your most solid option for that.
2. Do your research
Any travel that you book needs to be done via phone or through BMO rewards travel agency online. This may sound a little restrictive but it isn't because there are no types of limitations as to which airplane or seat type you can spend your rewards point on. There's also another good news: BMO rewards agents offer Price Match guarantee on select airfare and vacation package bookings. If you shop around and find a lower advertised price available for the general population through a Canadian retail website, the BMO Rewards Center will match it.
There are a few rules though. Here are the main ones:
The price match guarantee is restricted to vacation packages booked through Sunquest vacations, ALBAtours, Transat Holidays, Nolitours, Signature Vacations, Air Canada Vacations , Sunwing vacations and WestJet vacations. When it comes to Price Match on airfare, your ticket should be booked with Air Canada and WestJet.
You have to make your booking at the time of Price Match request.
It must be an apple to apples comparison. This means the Price Match should be for identical flight, hotel property, room type, meal plan, class of service, number of travelers, travel dates, departure and arrival cities.
3. Gather as many points as you can quickly
Other than the lump sum of points you are showered with as welcome bonus, there is another way to accelerate your point accumulation process – Add additional cardholders to your account. Every time they use the credit card linked to your account, they will be earning you points from their purchases. You can add additional cards to your BMO World Elite Mastercard for $50/year. But be careful with overspending because these reward cards have a high interest-rate of 19.99%, which means if you are unable to pay your balance in full by the due date, you will be charged interest.
4. Spend it on travel
Because BMO is not affiliated with any specific airlines, you can use the BMO reward points on any platform. Unlike many other travel reward cards, BMO rewards card lets you use your points to cover all the flight charges, including taxes. You can also use the points to cover the cost of all the other little things that are important and expensive part of a travel experience such as renting cars, booking hotels, purchasing vacation packages etc.
Also, note that if you sign up for the BMO World Elite Mastercard, its sign-up bonus itself is worth $250 travel value when booked through BMO rewards.com. That value is enough to cover a flight from Toronto to Montreal.
5. Redeem it for investments
Other than travel, you can gain nice value from BMO rewards points when redeeming them for investments. 15,000 BMO rewards points will give you access to $100 which will be directly deposited to your BMO InvestorLine account. The transfers have to be made in increments of $100. While you must transfer your funds to a BMO investment account, once the funds are there, you can use it however you want.
BMO Rewards are very flexible and you can spend them on any travel as long as you book through their online travel platform. Your points will never expire as long as you keep your account open and in good standing. Unlike many other rewards program, the redemption options available in this program on average gives your good value –even if you weren't going to redeem them on travel purchases. If you research and plan well before spending your points, you should be available to acquire significant value through your BMO points.