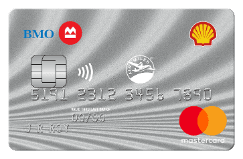 on BMO's website
The Bank of Montreal has a pretty good lineup of AIR MILES card to choose from, but for travelers who frequently fill up at Shell, the BMO Shell AIR MILES MasterCard may be the right choice.
When you sign up, you can get up to 800 AIR MILES Bonus Miles, with 400 Bonus Miles earned on the first purchase, and an additional 400 Bonus Miles earned when you spend $1,000 over the first 3 months.
Annual Fee: $0
Min. Income Required: $15,000
Interest Rates: 19.99% (Cash advance 22.99%)
AIR MILES Rate: 2 Miles for every $20 spent at Shell, and 1 Mile for every $20 spent everywhere else
Additional Card: Free
Exceptional AIR MILES Rewards
With the BMO Shell AIR MILES MasterCard you'll get excellent air miles earning potential, especially if you buy your gas from Shell. You'll also get a decent air miles rate on everyday purchases. BMO AIR MILES earning potential includes:
Earn up to 800 Bonus AIR MILES when you purchase $1,000 over the first 3 months
Earn 2 miles for every $20 when you buy gas or other items from Shell
Earn 2X the miles at participating AIR MILES Partners
Earn 1 mile for every $20 spent on all other purchases
Earn twice the miles when using your BMO Shell AIR MILES card in conjunction with your AIR MILES Collector Card
Save 3 cents per litre on Shell gasoline until October 31, 2019
Conclusion
The BMO Shell AIR MILES MasterCard is a good choice for Canadian travelers seeking to collect air miles at a good rate without an annual fee. While other cards earned miles would essentially pay for the cost of the annual fee, all miles earned with this card is a real bonus that goes direct to the cardmember.
Identity theft is a nightmare and if it happens while traveling, it could ruin your entire trip. With this card you'll get peace of mind knowing you are protected with the following security features at home and abroad:
Chip & PIN Technology
IDefence Identity Theft Assistance
MasterCard SecureCode
Zero Dollar Liability
MasterCard PayPass
Extended Warranty Insurance & Purchase Protection
MasterCard Global Assistance
Lost or Stolen Card Replacement and Emergency Funds
With top-level security features Tap & Go Payment technology, enhanced purchase protection, and top-tier customer service provided by MasterCard, the BMO Shell AIR MILES MasterCard offers travelers good miles earning potential and a nice welcome bonus.