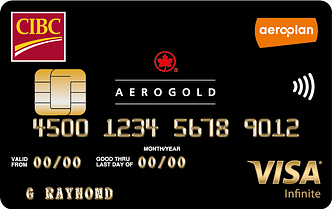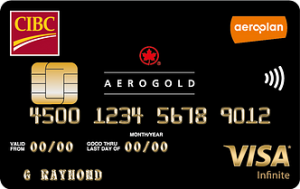 on CIBC's website
CIBC's Aerogold Visa Infinite is one of the strongest credit cards in Canada today. There are many of us who would love to earn aeroplan miles to use towards the future travel expenses. CIBC Aerogold Visa Infinite makes it extremely easy to earn reward points, and it's very common for cardholders to get at least one free flight after using it frequently.
With this credit card, there is Aeroplane Miles to be redeemed with every dollar spent- yes, this includes your groceries, gas and drugstore purchases. It's strong reward system and comprehensive insurance package makes it a solid option for any frequent traveller looking to make their trips more affordable.
Annual fee: $120; up to 3 additional cards allowed for $50 per year
Interest Rate: Purchases 19.99%, Cash 22.99%
Minimum annual income: Individual $60,000, Household $100,000
Key features at a glance
Apply between July 1, 2019 and October 31, 2019 to win up to 20,000 Aeroplan Miles and a $120 Air Canada eGift Card
Enjoy priority airport services and lounge access when using Aeroplan Flight Reward on Air Canada flights
Earn 1.5 miles for each $1 spent at aircanada.com, or on eligible gas, grocery, drugstores purchases at merchants in the Visa network
Earn 1 mile for each $1 spent on all other purchases made through CIBC Aerogold Visa Infinite
Earn double Aeroplan Miles at over 150 participating Aeroplan partners and more than 100 online retailers
Get comprehensive insurance benefits that includes coverage for medical, trip cancellation or interruption, flight delay and baggage, and auto rental collision or damage
Benefits and Perks
Set spending limits – Have greater control over the spending habits of any authorized user by setting purchase and cash limits on your additional cards.
Climb up the Aeroplan Status ranks faster – Reach the silver, black and diamond status faster. Each rank has its own incentives in terms of  flight rewards, bonus miles and other privileges.
Travel the globe – Use your miles to travel anywhere in the world with Air Canada and its over 25 partner airlines.
Use miles to cover expenses – Use your Aeroplan Miles to cover miscellaneous expenses like taxes, fees and other charges related to your flight.
Get through Check-in faster – No more waiting in lines. Take advantage of priority check-in and boarding on Air Canada flights
Relax at Air Canada Maple Leaf Lounge – Once every year, you can redeem your Aeroplan Miles for a flight and unlock access to Air Canada Maple Leaf Lounge with One-Time Guest Access Benefit pass
Complimentary concierge services – Get 24-hour Visa Infinite Concierge services to make reservations, purchase tickets, and deliver gifts
Get access to exclusive offers – Get tickets, discounts and other benefits to dining and wine events, live music and VIP access to benefits at luxury hotels
Common Carrier Accident Insurance – Get coverage worth $500,000 in the event of an accidental bodily injury occurring in a public transportation like train, ferry or cruise
Travel Medical Insurance – Its out-of-province travel medical insurance covers the primary card holder, their spouse and children for eligible medical emergency related hospital expenses for up to $5 million for the first 15 days of the trip for those under age 64, and first 3 days of trip for those over 65 years of age
Flight delay and baggage insurance – Any flight purchased through your CIBC Aerogold Visa Infinite Card comes with $500 in coverage for hotel, motel, restaurant expenses, $100 for ground transportation and $100 for entertainment expenses if the flight is delayed for more than 4 hours. It also includes $500 for daily expenses if the flight is delayed for over 6 hours.  If you lose your checked baggage or if it's damaged, your insurance will cover $500
Trip cancelation/ Trip interruption insurance – Get coverage up to $1000 per person to a maximum of $5000 for all persons on the same trip if an illness, injury or other events were to prevent you from starting your trip.
If during the trip, an illness or injury of you or an immediate family member were to interrupt your trip, then you may be eligible for $2000 per person
Purchase Security and Extended Protection Insurance – Eligible new items purchased through your CIBC Aerogold Visa Infinite Card will be repaired, replaced if its damaged or lost within 90 days of purchase. The Extended Protection Insurance doubles the original warranty period by up to one year on most purchases.
CIBC Auto Rental Collision/ Loss Damage Insurance – Save $25/ day on car rental insurance when you make the full payment for your car rental using CIBC Aerogold Visa Infinite Card. Decline the rental agency's Collision damage waiver or loss damage waiver, and stay protected by CIBC's Auto Rental collision/ Loss Damage Insurance.
CIBC Aerogold Visa Infinite Review
New applicants are greeted with 20,000 Aeroplan Miles as a welcome bonus. This amount is released across two phases- get the first 15,000 miles when you make the first purchase using your CIBC Aerogold Visa Infinite card, get the other 5,000 points when you accrue at least $1,000 in net purchases within your first 4 monthly statement periods. As a new applicant, you can also get a $120 Air Canada eGift Card within 6 to 8 months of opening your account. Your eCard can be redeemed on aircanada.com or at aircanadavacations.com.
Now let's look at the reward system. Note that all rewards you receive will be in the form of Aeroplan miles and not points. As a CIBC Aerogold, you get to earn miles for every purchase you make using your credit card. How much you earn depends on what you buy and where you buy it from.
For gas, groceries and drugstore purchases, you can expect to earn 1.5 miles per $1. For any other purchase, earn 1 mile per $1. Also, if you shop at any of the retailers that are part of Aeroplan partner program, you can earn double the miles. Most of these partners are hotels and resorts that you may only really purchase during special occasions, but there are also big name stores like COSTCO, Amazon on the list that is more suited for everyday shopping.
There are other benefits that Aerogold Visa Infinite Card holders travelling with Air Canada can take advantage of to save time and energy. Priority check-in and boarding makes waiting for your flight a breeze. Do note that, to enjoy these perks, you will need to redeem your Aeroplan Miles on your Air Canada flight. You can also get access to their Maple Leaf Lounge once per year, provided you pay for your flight with your Aeroplan Miles.
The Aerogold Visa Infinite Card  comes with an extensive insurance coverage that keeps you, your spouse and dependents protected from various kinds of risks while travelling. It provides $5 million in coverage for out-of-province emergency medical needs for the first 15 days; for those that are 65 or older, this policy will cover your first 3 days.
Their trip cancellation policy provides coverage worth $1000/person upto $5000 total. They also offer trip interruption coverage worth $2000/person on the same trip. If your flight is delayed or your checked baggage is lost or damages, it offers a substantial amount to cover the expenses. Plus, it comes with Purchase Assurance and Extended Warranty to protect your new purchases made through your Aerogold Visa Infinite Card.
To keep you protected while using a rental vehicle or travelling through a common carrier, this card provides $500,000 in common carrier accident insurance, and comes with its own Auto Rental Collision and Loss Damage Insurance.
For a credit card with a moderately high income eligibility requirement and $120 in annual fee, it covers all the bases as to what you would expect from a superior travel credit card.  This card is perfect for those who travel frequently for business and pleasure, and those who don't mind waiting a bit for the mile pool to grow before redeeming it.