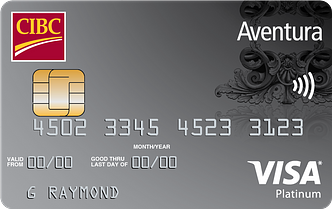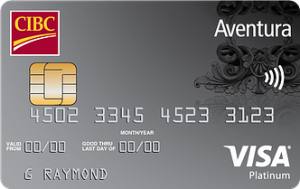 on CIBC's website
CIBC offers several cards in its Aventura line, which is their set of premium travel cards aimed at frequent flyers who want to make their travel and airport experience more rewarding. For a card that has no annual fee, CIBC Aventura Visa Card comes with a suite of perks, including insurance benefits and concierge services that's usually only reserved for elite cards.
With a low annual income requirement of $15,000, this card is impressively suited for all demographics including students or part-time employees. It comes with a chock full of benefits including an attractive reward system that enables you to earn points for every purchase you make. These accumulated points can be used to make travel-related purchases, to pay off your credit card balance, and more.
Annual fee: $0
Interest Rate: Purchases 19.99%, Cash 22.99%
Minimum annual income: $15,000
Key features at a glance:
Apply by October 31, 2019 to receive 7,500 Aventura points
Earn 1 point per $1 spent at gas station, grocery stores and drugstores
Earn 1 point per $1 on travel purchases made through CIBC rewards center
Earn 1 point per $2 spent on all other purchases
 New purchases made through your Aventura Visa credit card stays protected against  theft or damage for 90 days.
With Aventura travel assistant, make travel planning easier by getting personalized assistance with booking and trip planning at no booking fees
Your Aventura points never expire and can be redeemed on any airline, any flight and any seat
Cardholders can add 3 authorized users to their account and each of the card can be assigned its own spending limit
 Benefits and Perks
Flexible redemption- Use your points that never expire on any airline
Use points for expenses- Your points can be used to pay airfare in full, including taxes and fees
Not limited to flights- Aventura points can be used to pay for hotel stays, cruises, vacation packages, gift cards and other travel activities found at CIBC Rewards Centre
Pay off debt- Put your Aventura points towards paying off your credit card balance or invest them into available financial products
Make reservations- When using your card to make hotel reservations, you can use guaranteed reservation to hold down a room
Auto Rental Collision and Loss Damage Insurance- Save $25 on rental car insurance per day by simply charging the full rental car cost to your CIBC Aventura Visa Card and decline the rental agency's Collision Damage Waiver and Loss Damage Waiver.
Common Carrier Accident Insurance- Stay protected when travelling on a common carrier like train or bus. Charge your fare to your CIBC Aventura Visa Card and you, your spouse and any dependents will be covered with up to $100,000 Common Carrier Accident Insurance
Purchase Security and Extended Protection Insurance- New items purchased using CIBC Aventura Visa Card stays protected for 90 days of purchase. The Extended Protection Insurance doubles any original warranty up to one year.
CIBC Aventura Visa Card Review
The CIBC Aventura Visa Card is amongst the most renowned travel credit card in Canada. It has no annual fee, but that doesn't mean it's lacking in benefits.
One of the things most credit card companies use to entice new users is welcome bonus. CIBC is no different. If you apply by October, 31st 2019, you can earn up to 7,500 in Aventura points across 2 stages:
Unlock 5,000 Aventura Points once you spend $500 or more, and add at least one recurring payment to your account in the first four months
Unlock 500 points each for completing these 5 tasks within 60 days of account opening– Share email address with CIBC to receive regular communications; sign up for eStatements for Aventura Visa Card; include an authorized user to your account; open an eligible CIBC Chequing account; add your Aventura Visa Card to Apple Pay, Samsung Pay or Google Pay.
4 of those 5 tasks are very simple to do but if you don't already have a CIBC chequing account, it will take some effort to get one.
Other than those 7,500 points in welcome bonus, you will still earn rewards for every purchase you make with your new Aventura Visa Card. For gas, groceries,  travel purchases made through the CIBC rewards center, and drugstore purchases, you earn 1 point for every dollar spent.
For all shopping done through your Aventura Visa Card that doesn't belong to the categories mentioned above, you will still earn 1 Aventura points for ever $2 you spend. If you are someone whose shopping patterns mostly revolves around buying gas, groceries, things at drugstores or CIBC travel purchases, then you can expect to rack up significant oints with this credit card.
You can use your points to book any flight on any airline through CIBC Rewards, or to pay your credit balance. You can also save for your future by making a contribution towards many of the investment products CIBC offers. That said, the best way to use these points is on airfare.
Lastly, for a free card, Aventura Visa comes with  Auto rental collision and loss damage insurance, common carrier accident insurance, purchase assurance and extended warranty, and a concierge service to help you make reservations, and deliver gifts.