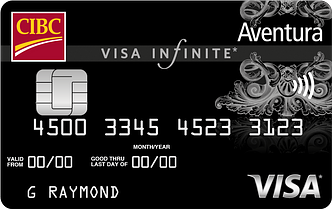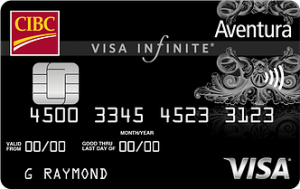 on CIBC's website
There are plenty of credit cards specifically made for travel-savvy Canadians. The Aventura credit cards by CIBC is unique in that it doesn't limit the travellers to any one airline or seat. It rewards customers with features and benefits they can use to fuel their quench to travel through Canada or beyond. And the incentives go beyond reward points, although they are quite a strong feature of CIBC's Aventura Visa Infinite card.
CIBC's Aventura Visa Infinite Card has some unique features on top of traditional perks that are found in most travel credit cards, two of which includes a rebate on Nexus application fee and an insurance policy that protects your new mobile device for 2 years!
Annual fee: $120
Interest Rate: Purchases 19.99, Cash 22.99%
Minimum annual income: Individual $60,000, Household $100,000
Key features at a glance:
Apply by October 31, 2019 to receive over $750 in travel value. For those approved for the card, you will also receive a welcome bonus of 20,000 Aventura Points, and a $120 travel credit
Earn 2 points for every $1 travel related purchases made through CIBC Rewards Centre
Earn 1.5 points for each dollar spent at gas stations, grocery stores and drug stores
Get 1 point per $1 for all other purchases made through Aventura Visa Infinite Card
Get access to Aventura Travel Assistant to receive personalized travel booking and planning help
Get a Priority Pass Membership and 4 complementary airport lounge access per year. There are 1,200+ airport lounges within their network
Points never expire
Benefits and Perks:
Flexible rewards- Fly with any airplane and any flight
Pay airfare- Use your points to pay for your next flight, taxes and other fees in full
Redeem beyond flights- Put your Aventura points towards hotel stays, cruises, vacation packages and other activities through CIBC Rewards Centre
Save for your future- Use the points to pay off your credit balance or invest in CIBC's financial products
Visa Infinite Exclusive Offers- Unlock luxury upgrades for your tickets and more through visainfinite.ca
Emergency Travel Medical Insurance- The out-of-province emergency travel medical insurance covers you, your spouse and dependents with up to $5 million when travelling outside your Canadian province.
Flight Delay and Baggage Insurance- if your plane, that you paid using CIBC Aventura Visa Infinite Card, gets delayed for more than four hours, you can receive up to $500 for accomodation and restaurant expenses, $100 for ground transportation and up to $100 for entertainment expenses. You will also be eligible to receive up to $500 to buy essential clothing and toiletries when your baggage is delayed for more than six hours. Purchases must be made within four days of the incident. Your insurance also comes with $500 to cover loss or damage to your checked baggage if you charge the full cost of your common carrier fare to your Aventura Visa Card
Trip Cancellation and Trip Interruption Insurance- If your trip is cancelled, you will be covered with up to $1,500 for eligible prepaid expenses for each insured person, for a total of $5000. If your trip is interrupted or delayed due to an unexpected event, you will get coverage up to $2000 per insured person.
Auto Rental Collision and Loss Damage Insurance- If you use Aventura Visa Card to pay for your car rental in full, you will be covered for theft, loss and damage for up to $65,000
Common Carrier Accident Insurance- Travelling through a public carrier like bus or train? Charge the fare to your Aventura Visa Card and get coverage upto $500,000
Purchase Security and Extend Protection Insurance- Your new items purchased through Aventura Visa Card will be replaced or repaired in case of damage within 90 days of purchase. The Extended warranty doubles the period of the original warranty to a year.
Hotel Burglary Insurance- Keep your items covered if you suffer loss or damage in your hotel room to a maximum of $2,500 per incident
Mobile Device Insurance- If you buy a tablet, smart phone or cellphone using your new credit card, and it drops, cracks, gets stolen or damaged, you can reimbursed up to $1000. This policy covers the item for two years from purchase date.
CIBC Aventura Visa Infinite Card Review
The CIBC Aventura Visa Infinite Card comes with a generous sign-up bonus for new cardholders, granted you apply and get accepted by October 31, 2019. You can earn up to 20,000 Aventura points, 15,000 of which are released right after you make your first purchase using the new credit card. To unlock the remaining 5000 points, you have to spend $1000 or more during your first 4 months.
You will also receive a $120 travel credit that can be used as a single transaction to cover the expenses of any flight, hotel, car rental, or vacation package made using your new card.  You will also a Priority Pass Membership that gives you access to 4 visits to the airport lounge per year, and a NEXUS application fee rebate worth $50. That way, if you're a frequent traveller,  you can speed up your border crossings into the United States and Canada for five years.
Since every point is worth 1 cent, 20,000 points will yield you $200 that you can use towards any travel purchase. The rewards daily isn't bad either. You get 1.5 points for every gas, grocery and drugstore purchases you make through your Aventura Visa Infinite Card. You can also get 2 points for every dollar you spend on booking travel through CIBC Rewards Center, and a point per dollar for all other purchases made through your card.
CIBC Aventura Infinite is one of the elite credit cards available in Canada, and as such it comes with a wide range of insurance policies that would cover any risks that frequent travellers are exposed to. This includes emergency medical insurance worth $5 million, and covers you for the first 15 days of your trip. If you are 65 or above, you will only be covered for 3 consecutive days. It also comes with flight delay and baggage insurance, trip cancellation and trip interruption insurance, auto rental collision and damage, common carrier accident insurance, purchase security and extended warranty insurance, hotel burglary insurance and mobile device insurance.
Do note that, you have to make the booking and purchase items through your card to redeem the insurance benefits in case something were to happen. So if you are in the market to buy a new phone or tablet, it will be a good idea to make that purchase through your Aventura Visa Infinite Card. This way your phone will be insured against theft or damage for 24 months.
Your Aventura points never expire and can be used on any flight or travel related purchases. You can also use your points to pay your credit balance, or save it for the future by investing it into the many different financial products offered by CIBC.
CIBC's Aventura Visa Infinite Card has a personal income requirement of $60,000, or $100,000 for household income. It comes packed with an attractive welcome bonus, and an extensive docket of benefits and perks including a huge range of insurance policies. So, if you are in the market for a new travel credit card that lets you earn points starting right now, then Aventura Visa Infinite Card will be worth a look.