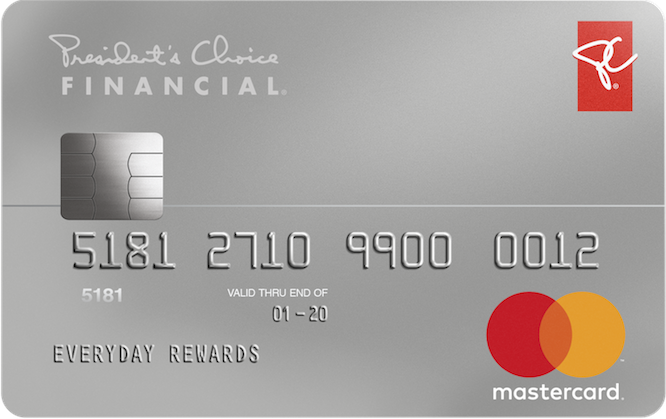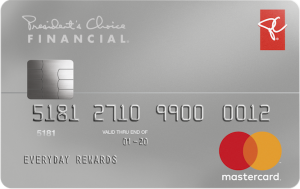 on PC Financial's website
If there is any errand that's deeply cemented into our everyday routine, its buying groceries. Love it or hate it, its a task that has to be done. Whether it be because of attractive deals or the distance, many shoppers like sticking to the same few stores. President Choice's mastercards are quite the rage in Canada because it incentivizes consumers with rewards for shopping at the most visited grocery stores.
If you frequently shop at Shoppers Drug Mart, or any stores where President's Choice products are sold, then PC Financial Mastercard may be the right credit card for you to earn points you can use to spend on your future grocery trips. As the other mastercards offered by PC, PC Financial Mastercard does not have an annual fee and since it also doesn't have an annual income requirement, almost anyone with a good credit score can apply and qualify.
Annual Fee: None
Interest Rate: Purchases- 19.97%
Cash Advance: 22.97%
Promotional Balance Transfers for 6 Months: 0.97%
Key Features At A Glance:
Earn 25 points per $1 when shopping at Shoppers Drug Mart
Earn at least 30 points per litre at Esso Mobil
Earn 10 points per $1 when shopping at Loblaws, Real Canadian Superstore, Zehrs, Independent Grocers, Valu-mart, Fortinos, Nofrills
Earn 20 points per $1 when making travel purchases using PCtravel.ca
Earn 10 points per $1 when shopping everywhere else
Redeem $10 for every 10,000 points on purchases at Nofrills, Loblaws, Shoppers Drug Mart, Real Canadian Superstore, Zehrs, Independent Grocer, Valu-mart, Fortinos, CityMarket, Maxi, Pharmaprix, Provigo, Joe Fresh, BeautyBoutique and Atlantic Superstore
Your PC points never expire
Benefits and Perks:
Mastercard Global Service – Got your credit card lost or stolen? This feature provides an emergency replacement for your credit card and also offers an emergency cash advance.
Free Purchase Assurance – Covers your purchases made through PC Financial Mastercard in an event of theft, loss or damage for the first 90 days.
Free Extended Warranty – Extend the period of repair services to one year on any Canadian warranty on items bought through your PC Financial Mastercard
Authorized Users – Stack up your PC points faster by adding 3 to 4 free cards for your family members
PC Financial Mastercard Review
PC Financial Mastercard is the most basic credit card offered by PC bank. Although it offers less points and benefits than their higher tiered cards, it's still a great way to earn some bonus points if you are already an avid shopper at retailers like Shoppers Drug Mart, Loblaws and more. Also, this card has no basic income requirement which makes it an attractive option for those in the low income bracket. That said, you still need to have a good credit score to apply.
There are rewards to be earned from each purchase you make using your PC Financial Mastercard. The amount of points you receive differs based on the store. For example, you will earn 25 points for every dollar at Shoppers Drug Mart, at least 30 points per litre at Esso Mobil, 20 points per dollar when booking travel through PC travel.ca and 10 points per $1 for all other purchases. You can redeem $1 for every 1000 PC points, or $10 or every 10,000 points.
An important point to note is that, you get these bonus rewards on top of the rewards you earn as a member of PC bank's loyalty program called PC Optimum.
The two other benefits of this card is that its purchase assurance protects your items from theft, loss and damage for 90 days, and its extended warranty feature extends repair warranty on most items to up to an additional year.
This specific card does not offer extensive benefits like the other mastercards in this line, but the PC World Mastercard has an income requirement of $60,000 while the World Elite Mastercard has an income requirement of $80,000; so while the premium alternatives of this mastercard might be harder to qualify for right away, you can always upgrade to them.
PC Financial Mastercard limits point redemption to stores within their network. So if you don't shop at Loblaws, Joe Fresh or Shoppers Drug Mart or other stores carrying President Choice products, then this may not be the card for you. It doesn't give you cash back or gift cards. You must use your points on your future purchases at participating stores.
For those with families, this card can be used coupled with a PC Optimum account, to stack up on points even faster which can significantly reduce your weekly grocery bill.