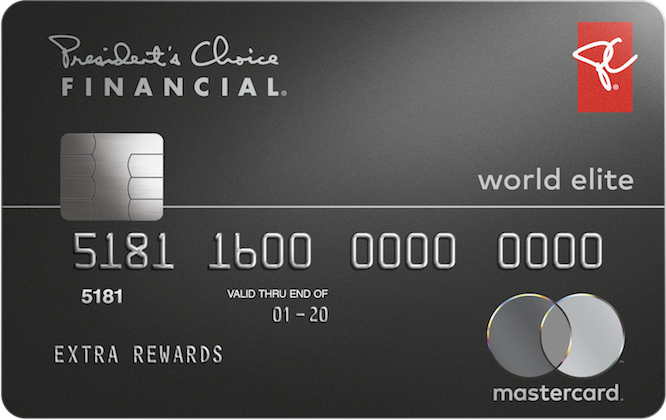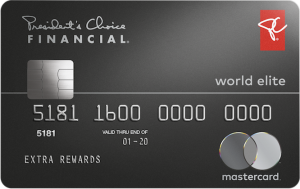 on PC Financial's website
The President Choice's Optimum Reward Point Program is jam-packed with Canadian shoppers who want to earn maximum rewards from shopping trips. But to double up on rewards, many Optimum Reward members are applying for PC bank's credit cards. There are 3 available, and which one you qualify for significantly depends on your personal income.
PC Financial World Elite Mastercard is their top-tier mastercard which has an income requirement of at least $80,000. This card makes is extremely easy to rack up points which can be used to make purchases like food, clothes or beauty products from any participating stores within their network.
Annual Fee: None
Interest Rates: Purchases- 19.97%;
Cash Advance Interest Rate: 22.97%
Promotional Balance Transfers: 0.97%
Interest-free Grace Period on New Purchases: 21 days
Annual Income Requirement: Personal: $80,000; Household- $150,000
Key Features At A Glance:
Apply by December 31, 2019 to get a limited time balance transfer interest rate of 0.97% for 6 months
Earn 45 points per $1 when shopping at Shoppers Drug Mart
Earn a minimum of 30 PC Optimum Points per Litre at Esso Mobil
Earn 30 points per $1 when shopping at PC Travel
Earn 10 points per $1 on all other purchases
No expiration on reward points
For every 10,000 accumulated points, redeem up to $10 in free products from participating stores like Loblaw Grocery stores, Shopper's Drug Mart, or online websites like beautyboutique.ca, JoeFresh.ca, PC Express Websites.
Benefits and Perks
Travel Emergency Medical Insurance- For travellers under the age of 65, this policy will provide coverage upto $1,000,000 for 10 days
Car Rental Collision- Covers you and your belongings in the event of rental vehicle collision or theft
Purchase assurance and extended warranty- Covers eligible items bought through the card against theft and damage for 90 days after purchase. The extended warranty benefit doubles eligible warranties to up an additional year.
Identity Theft Assistant Service- Keeps your personal information and credit protected against theft and fraud
Concierge Service- This 24/7 service is exclusively available to PC Financial World Elite Mastercard members to help with dinner reservations, purchasing concert/event tickets, or delivering gifts and more
PC Financial World Elite Mastercard Review
PC Financial World Elite Mastercard is not necessarily a cashback credit card. It's a card that rewards you with PC points for all purchases made across a network of 2,500 stores in Canada. The stacked up points can be used to purchase items from these same stores. The participating stores include, No-Frills, Loblaws, Valu-Mart, Real Canadian Superstore, Shoppers Drug Mart, PharmaprixMD, Esso/Mobil and President's Choice Travel.
If you are already a PC Optimum Points Program member, you get to collect points on the same item multiple times–first, as part of the PC Optimum member and second, for using the PC financial world elite mastercard.
Each PC Optimum point in the PC Optimum Points Program is worth $0.001.
When it comes to the PC Financial World Elite Mastercard, the reward point varies by different purchase categories and stores. Groceries from stores in Loblaws/Weston network (includes No-Frills, Loblaws, Valu-Mart, Real Canadian Superstore, Fortino's, Independent, Zehr's) gives you 30 points per dollar. Drugstore purchases at Shoppers Drug Mart will yield you 45 points per $1. You can earn 30 points per litre when purchasing gas at Esso/Mobil. If planning a trip, booking through PC travel will give you 30 points in rewards per dollar.
Any other purchase that you make through your PC Financial World Elite Mastercard will earn you 10 points per $1. You can earn additional deals on top of these points through using coupons or any in-store offers.
Redeeming these points is very easy. First, your points never expire. Second, you can start point redemption once you have at least 10,000 accumulated which is worth $10, and use it to receive free gas, groceries or drugstore items. Or you can spend the points to shop online at Joe Fresh, Beauty Boutique and PcExpress.ca
There are other attractive perks that comes with this card too. New users get to enjoy a 6 month low interest rate of 0.97% on balance transferred amounts within 90 days of opening the account. This offer is only valid if you apply by December, 31st, 2019. For a card with no annual fee, one of the biggest perks it offers is insurance benefits like travel emergency medical insurance that covers travellers who are under 65 years for 10 days. If you are on a trip and want to rent a vehicle to get around, PC Financial World Elite Mastercard will cover you with its collision, damage and theft insurance. Your items that you travel with or purchase using this card stay protected against theft and damage for 90 days through its Purchase Assurance policy.
This card is well-suited for shoppers who are a savvy grocery, drugstore and gas shopper who make the majority of their purchases at the participating network of retailers. But even if you aren't, this card is still worth a shot just for its free 10-day medical insurance.
Please note that, it does have a relatively high income eligibility requirement of $80,000, or $150,000 for a household, and this card limits redemption to 10,000-point increments.
But with no annual fee, and excellent saving opportunities, this card comes with a low barrier to entry that makes it a compelling option for any Canadian looking for a new, basic reward based credit card.