Tangerine only offers one credit card, a cash back card, and it's one of the most versatile cards on the market. Instead of offering multiple different cards for different rewards for different categories of spending, you're able to choose your own categories where you earn the most cash back.
Tangerine Money-Back Credit Card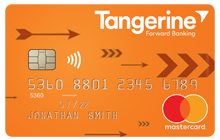 on Tangerine's website
Welcome Offer: choose up to 3 categories and receive a 4% cash back on those for the first 3 months.
Earn Rate: 2% cash back on your selected categories, and 0.5% on everything else.
Annual Fee: $0
Min. Income Required: Personal $15,000