Best Student Credit Cards Canada
If your annual income is at least $15,000…
Then you qualify for the Tangerine Money-Back Credit Card.
Tangerine Money-Back Credit Card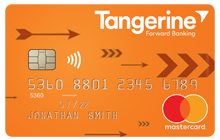 on Tangerine's website
Welcome Offer: choose up to 3 categories and receive a 4% cash back on those for the first 3 months.
Earn Rate: 2% cash back on your selected categories, and 0.5% on everything else.
Annual Fee: $0
Min. Income Required: Personal $15,000
This card gives you 2% Money-back rewards on any two of the 10 available money-back categories of your choice. Your options include grocery, furniture, restaurants, hotel, gas, drug store, home improvement, entertainment, and public transportation and parking. The rewards are credited to your account automatically and are ready for withdrawal every month. You can redeem the earning to your savings account or use it to pay off your credit balance.