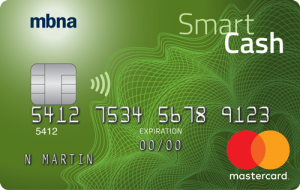 on MBNA's website
The MBNA's smart cash credit card options are designed to help common Canadian consumers bring a portion of their money they'd otherwise spend on their everyday purchases back into their wallet. Unlike other cash back cards that only incentivize specific purchase categories, MBNA's credit cards are meant to fit into your current shopping patterns and offers you a reward on every purchase.
And for that reason, although the MBNA smart cash platinum plus Mastercard has undergone several changes over the last few years that made many card holders switch their credit card providers, this basic cash back credit card still helps you reap rewards and offers value that you may not find in other cards that easily.
MBNA's Smart Cash Platinum Plus Mastercard is the basic card in their cash back credit card line. This card shares many features and benefits with MBNA's Smart Cash World Mastercard, but doesn't have as many eligibility requirements. It's aimed towards users who want to earn cashback on gas, groceries and common household purchases without paying any annual fees. It's a card that has undergone many changes which compelled many users to switch their credit card providers, but there are still some good things going for this card that you should be aware of.
Annual fee: $0
Interest: 19.99%
Cash Advances: 24.99%
Balance Transfers & Access Cheques: 22.99%
Minimum annual Income Requirement: None
Key Features At a Glance:
New users can enjoy a 5% cash back on eligible gas and grocery purchases for the first 6 months from opening your account. This offer applies on a total monthly purchase limit of $500.
Earn 2% on gas and groceries after the promotional period is up, with $500 monthly spend cap.
Get 0.5% Cash Back on the other eligible purchases.
No Annual Fee
Add up to 9 authorized users to your credit card with no annual fee
Comes with Rental vehicle collision damage waiver benefits
Benefits and Perks
Purchase Assurance: Cover your eligible personal items purchased using your MBNA credit card against theft or damage for 90 days from purchase date. Lifetime cap of $60,000 per account.
Extended Warranty Benefits- Extend warranties on eligible products by upto 1 year.
Emergency Services- This card comes with 24-hour emergency features if you need help in short notice. Features include card replacement (7-10 days or by courier), emergency cash advance via western union, emergency cash transfer up to $5000, and 1-hour credit line increase decisions during business hours.
Away from Home Support- Need help while on a trip or going away from home?  Lost document credit card replacement, lost luggage assistance, pre-trip information and legal assistance are some of the features that comes with this credit card.
Common Carrier Accidental Death & Dismemberment Benefits- Get $1 million in coverage for accidental death or dismemberment incurred on a common carrier like bus, plane, ferry.
Unexpected Return Home- This trip interruption policy provides coverage up to $2000 in an event of the death of an immediate relative requiring you to discontinue your trip and return home.
Personal effects benefit- Keep your personal belongings protected against loss theft or damage for the duration of a rented vehicle. Get $1000 per insured/$2000 per account in coverage.
Identity Protection- Monitor, manage and protect your credit activities and sensitive identity information against fraud.
Balance Protection- Helps you with credit debts in an event such as loss of employment, total disability, accidental death and dismemberment, critical illness or loss of life
MBNA Smart Cash Platinum Plus Mastercard Review
MBNA Smart Cash Platinum Plus Mastercard gives new users 5% cashback on gas and groceries for their first six months. The monthly purchase limit for this feature is $500, which means you can earn up to $25 per month for six months as cash back. Once the introductory period is over, your gas and grocery cash back rate goes down to 2%. Purchases made outside those categories still earn a 0.5% cashback reward. The monthly spend cap  limit of $500 still apply.
Unlike MBNA's Smart Cash World Mastercard, users of Smart Cash Platinum Plus Mastercard don't have to pay an annual fee. They also don't have to meet any personal income requirement or household income requirement to qualify for this card.
For a card that's free and basic, MBNA Smart Cash Platinum Plus Mastercard  comes with an excellent insurance package. It has trip interruption benefits, accidental death and dismemberment coverage if you were to incur an injury while on a common carrier. This card also provides rental vehicle coverage, personal effects coverage protecting your personal belongings from theft, loss or damage while in a rental car. And on purchases made with the card, you can protect your products with their purchase insurance and extended warranty benefits.
For those in need of immediate financial assistance, this Platinum Plus Mastercard offers 1-hour credit line increase decisions, cash advances (albeit with a high interest rate of 24.99%), emergency card replacement service, and emergency cash transfer to up to $5000. If you are away from home on a trip, it provides lost document and ticket replacement assistance, legal and lost luggage assistance, and pre-trip information help.
MBNA Smart Cash Platinum Plus Mastercard is apt for shoppers who want the flexibility of being able to redeem their rewards anytime. It's also suitable for consumers who don't spend more than $500 on gas and groceries, and do not have the means to meet the common annual income requirement of $60,000 to qualify for a cash back credit card.
If you want the maximum cash back for gas and groceries, and spend either over $500 or well under that cap, then this card might not be right for you.