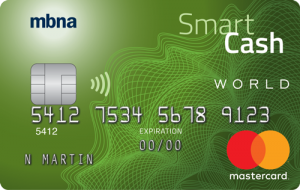 on MBNA's website
Cash back credit cards are dime-a-dozen, but most of them are designed to reward a subset of shoppers, like frequent travelers, frequent diners, movie lovers, and students. But what about a good cash back credit card that incentivizes Canadians for making everyday purchases?  MBNA's Smart Cash World Mastercard is perfect for such shoppers.
Despite changes to the reward structure and annual fees over the years, MBNA still offers some of the most sought-after cash-back credit cards in Canada.  With competitive rewards on day-to-day purchases, comprehensive insurance, and concierge services, MBNA Smart Cash World Mastercard offers some of the best perks– usually associated with premium credit cards– all  for an affordable annual fee.
Annual fee: $39
Interest Rate on: Purchases: 19.99%
Cash Advances: 24.99%
Balance Transfers & Access Cheques: 22.99%
Minimum Income Requirement: $60,000 personal income, or Household income: $100,000
Key Features At A Glance:
As a welcome offer, earn 5% cashback on eligible gas and grocery purchases for the first six months after opening the account. The gas and groceries monthly spend-cap is $500
Receive Base Earn Rate, 2% on gas and grocery purchases once you exceed your monthly spend cap of $500
Get 1% cashback on all other eligible purchases
Add up to 9 authorized users with no additional annual fee requirement
Receive Rental Vehicle Collision Damage Waiver Benefits
Benefits and Perks
Purchase Assurance Coverage- Items purchased using MBNA credit card can be protected against accidental damage, loss or theft for up to 90 days from purchase date. Maximum lifetime limit of $60,000 per account.
Extended Warranty Benefits- Extend any Canadian written warranty up to additional one year on eligible purchases made using your MBNA credit card.
Emergency Services- 24-hours emergency services are available for common resolutions such as card replacement (takes 7-10 days or by courier), emergency cash advance (Western Union), and emergency cash transfer for up to $5000.
Away from home- The Away from Home feature provides lost document and ticket replacement support, lost luggage assistance, pre-trip information and legal assistance.
Instant Credit line increase- Get one-hour credit line increase decisions during regular business hours.
Common Carrier Accidental Death & Dismemberment Benefits- Get up to $1,000,000 in coverage in case of an accident while a passenger in a public conveyance like aircraft, ferry or train.
Unexpected Return Home- If a death of an immediate relative occurs while you're on a trip, get $2000 in coverage to handle the expenses of an immediate return to home.
Rental Vehicle Accidental Death & Dismemberment Benefits- Planning to rent a vehicle for your trip? Receive $200,000 in coverage for a fatal accident or injuries causing the loss of a body part or damage to your ability to see, hear or speak.
Personal effects benefit- Get $1000 per insured/$2000 per account coverage in case of loss, theft or damage to personal items for the duration of a vehicle rental period.
Price protection- If you make an eligible purchase with your card and find the same item for a lower price from another seller in Canada within 60 days, the difference will be refunded. You can get up to $500 in refunds with maximum of $1,000 per account in one calendar year.
Identity protection- Protect yourself from identity fraud by monitoring, managing and securing your credit and identity information.
Balance protection- Protect your credit card balance in the event of involuntary unemployment, total disability, critical illness, dismemberment, or death.
Complementary Concierge services- Take advantage of their concierge services to make travel reservations, dinner reservations, purchase concert/show tickets and more. Any costs associated with these purchases will be applied to your MBNA world/world elite credit card.
MBNA Smart Cash World Mastercard Review
MBNA Smart Cash World Mastercard comes with a 5% cash back on gas and groceries as a welcome bonus for new users. This offer is only applicable for the first six months and has a monthly cap of $500 in purchases. This means you can earn a maximum of $25 per month as cashback ($150 for 6 months). Once you reach that, you will only receive 1% cashback on all additional purchases.
Along with that, once your promotional period ends, the cash back reward drops to 2% on gas and grocery purchases. All the other purchases has a flat-rate of 1% cash back.
This card has an annual fee of $39, but unlike most other credit cards, you can add 9 authorized users to your account without having to pay an individual annual fee for each of those users.
Another suite of impressive perks of MBNA Smart Cash World Mastercard is all the different types of insurance it offers, such as Purchase insurance coverage, trip interruption and  common carrier accidental death & dismemberment coverage, rental vehicle coverage, personal effects coverage and more. But one of the most not-so-widely-available but very useful coverages found in this card is its Price Protection feature  that refunds you on eligible purchases if the price on that product were to go down within 60 days.
Do note that,  it does not come with travel medical insurance or trip cancellation insurance. But it offers many services to rectify immediate financial needs such as instant credit line increase, cash advances  and emergency cash transfers.
One of the biggest downsides of this card is it's high income requirement. Applicants need to have at least $60,000 in personal income, or $100,000 in combined household annual income to qualify for this card.
While the cashback percentage does reduce from 5% to 2% once your first six months are up, you will still get a flat 1% cash back  with no limit whatsoever on any kind of purchase that's not limited to gas and groceries.
MBNA Smart Cash World Mastercard might not be for everyone. This card is best suited for people who want comprehensive customer protection features, and those whose primary spending categories are groceries and gas, but still want to be rewarded for other purchases that don't belong to those two categories. While 1% might not be a lot but it's better than nothing.