This guide is designed specifically for beginners to cover the basics of the program, but more importantly, different ways to earn the most points possible. Whether it's stacking points, special events, or customized offers from partners, there are ways to maximize your rewards.
PC Optimum points: what are they?
PC Optimum points are rewards offered by the PC Optimum program. Like me, you may be a new customer looking for the best way to earn points.
I was a member of the PC Plus program before the merger in 2018 with PC Optimum. I have to admit, I wasn't a big fan since accumulating points was more difficult. Nevertheless, that changed this year when I decided to rediscover the PC Optimum program and its paid version.
Where to collect PC Optimum points
The main places in Quebec to collect points are:
Elsewhere in Canada, you can find all the other Loblaws banners like Atlantic Superstore, Value-Mart, Zehrs, etc., and many others.


You also have the possibility of accumulating points on the partners' sites via your PC Optimum account.
How do I earn PC Optimum points?
One of the most common questions on forums and Facebook groups is how to get the most points in a single transaction. Here are several ways to maximize your PC Optimum points.
Of course, you'll need a PC Optimum account in order to take advantage of offers and bonuses. Don't worry, the basic membership is free.
Get to know PC Optimum offers
Every week or from time-to-time, you will receive special offers unique to your account. For example, here are my offers for the week:
200 points for every $1 in cheese at the deli counter

200 points for every $1 in tomatoes

400 points for no-name smoked sausages

400 points for no-name butter

400 points for every purchase of Fresca drinks
Since I do my grocery shopping every week looking for specials, I can add these items to my list. One purchase of each gives me almost 2,500 points considering $5 of cheese and $3 of tomatoes.
That's the equivalent of $2.50, but it adds up over time. These are also just the basic offers.
Sometimes you have additional offers like 4,000 points for every $20 of cheese and deli that add onto the other offer.
If you don't need a specific product that week, you can save that offer and use it the next week. You can do this for up to 4 offers!
Travel with PC Travel
If you have a PC Financial Mastercard, you can book flights and hotels through PC Travel. You'll earn up to 3x points when you book. 
As a PC Insiders member, you get an additional 5% discount in points. 
Let's take for example a trip for 2 adults to Costa Rica in mid-February. I selected Air Canada, with one stopover and one round trip. I got 50,900 PC Optimum points for a trip of 1,213.86CAD.
Note that I use the PC Financial World Elite credit card which gives 30 pts for $1.
If you're a PC Optimum addict, it might be worth it. However, some flights would be much cheaper with a little searching and you'll save more than the value of the points.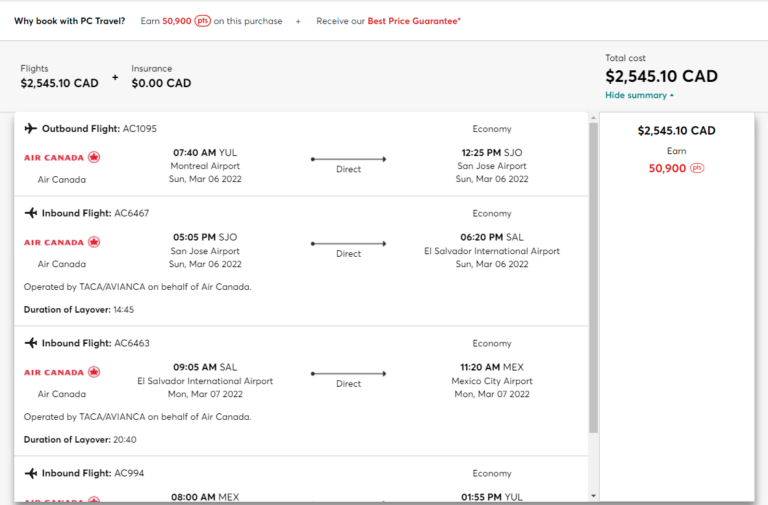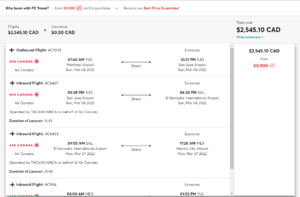 Gas Up at ESSO or Mobil
With more than 100 stations across Quebec, it can be a big advantage to fill up at ESSO with a PC Optimum membership. The reward rate is set at 10 points for each litre of gas. 
For an average worker driving less than 60 km round trip each day, that's a total of about 1,200 km per month. A Corolla with a 1.8 L engine averages 7.9 L / 100 km¹. Each month, you can accumulate up to about 960 PC Optimum points (95 L x 10 points).
It's not an exact science, but if you have any PC Financial Mastercard, the accumulation rate is 30 points per litre. So that's 2,850 points per month just by driving.
PC Mobile
Did you know that there is a PC Mobile program for your cellular needs? I only heard about it recently. When you sign up for a plan, you'll get a welcome offer of 20,000 PC Optimum points after two months of service. 
Plus, get up to 10% of the value of your plan in points. Let's say you have the $50 plan with 7 GB of data, that's 5,000 points each month. 
Grocery shopping at Provigo and Maxi or shopping at Pharmaprix


It goes without saying that if you want to accumulate PC Optimum points, it is to your advantage to shop at participating locations.
Each week certain offers available to all will give you extra points. There are also exclusive discounts for members.
We'll talk about the PC Optimum Insiders program a little later, but the free program only gives points on personalized offers. The Insiders program, on the other hand, allows you to earn 10% on all PC products.
Here. On the right, is an example of the points accumulated on a grocery store of about $100.
Participate in the PC Optimum Trio
If you want to invest your time and money in the PC Optimum program, I strongly recommend that you subscribe to these three products.
1) Sign up for the PC Optimum Insiders program 
You will find my review of the PC Optimum Insider program in this article. In short, this program is like the next level of the PC Optimum program.
It's a paid subscription that offers you some advantages that the free accounts don't have. This one will cost you 119$+taxes in order to join, which is 119,000 PC points in comparison.
The advantages in points discounts are the following: 
10% point discount on PC products or marked PC on the website;

10% discount on JOE FRESH products;

5% discount on hotel, flight, cars and certain vacation packages booked through PC Travel.
Other benefits include free shipping on joefresh.com and shoppersdrugmart.ca or pharmaprix.com and free PCbExpress grocery pickup!
2) Sign up for a PC Money account
The PC Money account is free. It's like a no-fee bank account with the ability to have a Mastercard credit debit card. It's perfect for those who like PC Optimum and don't have or can't have a credit card.
The benefits are as follows:
Welcome offer ranging from 200,000 to 300,000 PC Optimum points depending on current promotions

Online banking account with NO FEES

Ability to pay online with the PC Silver Mastercard at no charge;

Unlimited purchases and transactions;

$250 limit with contactless payment;

Earn 10 points for every $1 in purchases, everywhere;

Earn 15 points for every $1 in purchases at Shoppers Drug Mart or Pharmaprix;

And much more.
What we're interested in is the accumulation of points whenever possible. Use it with your PC Optimum Insiders program when you get a discount on PC products.
The account is similar to KOHO Mastercard® or STACK Mastercard.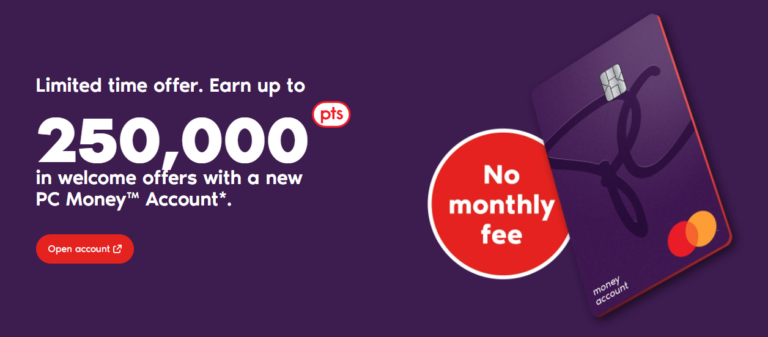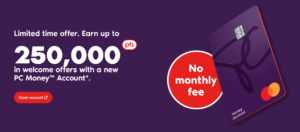 3) Get a PC Financial Mastercard 
Finally, you have the option to complete your trifecta with a PC Financial Mastercard. Admittedly, some cards have different eligibility criteria, the PC Financial Mastercard has no minimum income compared to the World and World Elite which have $60,000 and $80,000 in minimum income respectively. 
However, even with the PC Financial Mastercard, you earn 10 points per dollar on groceries at participating locations, 25 points per dollar at Shoppers Drug Mart and Pharmaprix, and 30 points per dollar at Esso.
It's a perfect addition to your points if you can afford it. You can also use it solely as a secondary credit card for groceries.
Combine PC Optimum Accounts
It is possible to combine up to 9 additional PC Optimum accounts. Usually this is done with close family members. However, I've also seen groups of friends pool their points while taking advantage of the offers. The split goes in proportion to spending and accumulation.
This makes it possible to get points extremely quickly. You just have to agree on who is responsible for keeping track and how the points can be spent.
Understand the math behind certain offers
There are many events at Shoppers Drug Mart, like PC Optimum Points Days. These are the best times to earn points but you must be careful in your calculation. The multiplier only applies to base points before taxes.
Moreover, bonus offers and extra points, such as those linked to your credit card, are not applicable. The points will be added at the end.
PC Optimum 20x Points Event
For example: Patricia decides to purchase $200 worth of products and cosmetics at Pharmaprix during the 20x Points Day. According to the terms and conditions, the multiplier is eligible for up to a maximum amount of $300. Patricia is okay!
Because Patricia is a PC Optimum Insider, she also has a personalized offer of 40,000 points on any purchase over $75.
Since she also uses a PC Silver account, she gets an extra 10 points on her purchases. These unfortunately do not qualify for the 20x points promo. 
At checkout, the calculation would look like this:
Redeem your points event
During this event, you can redeem different amounts of points depending on the promotion. In 
the case of Black Friday, it often happens to see this offer: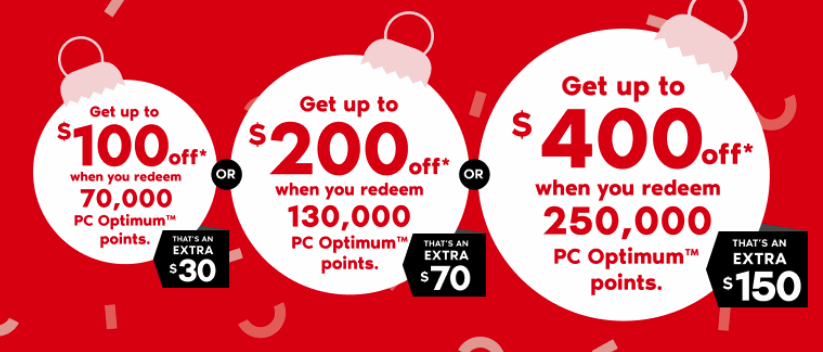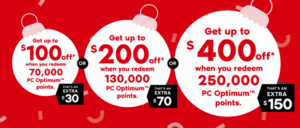 Sometimes this promotion appears at the same time as the 20x PC Optimum Point promotion. Unfortunately, you can't earn points on the amount you redeem. Only on the remaining balance.
For example, I want to buy a Nintendo Switch this holiday season and it costs $375. I have 200,000 points and I plan to use 130,000 of them during the promotion. 
At checkout, $130 + $70 will be deducted from the initial cost of the Nintendo Switch, leaving $175 to pay. From this amount, it will be possible to apply the 20x PC Optimum Points promotion as per the terms of the event.
Using the point promotion, I will get 20 x 15 x 175 = 52,500 points. Which is considerable considering the savings I got.  
20% – 30% – 40% in points back promotion
This offer doesn't come along very often in my PC Optimum Insiders account, but it's worth it. It's simply a return on your points redemption.
Let's take this example: I have a 40% points back offer on a 50,000 point redemption. The qualifying amount for the redemption is $75. At checkout, the calculation will be: $75 – $50 = $25 + 20,000 PC Optimum points*.
Note the fine print: this offer cannot be combined with any other offer… That's why it's important to read the terms and conditions for every time!
The points to remember
These offers are mostly available at Pharmaprix / Shoppers Drug Mart

The 20x points promotion applies to base points only

Points will be deposited into your account several days after the offer ends

Some important terms and conditions should be read to avoid surprises

Some offers are only available to Insiders members

Offers may need to be uploaded to your account or app

It is possible to use discount coupons and still receive the points

You must meet the minimum amount before tax and rebate.
Although this information is clearly stated, sometimes you act too fast. I lost 50,000 PC Optimum points on a custom offer because I didn't enter the code when I purchased online. That's still $50!
Conclusion
In conclusion, I think this program is perfect for anyone who just wants to collect points for normal use. 
Unlike AIR MILES or Aeroplan, it's much easier to earn PC Optimum points, and quickly.
The PC Optimum Insiders membership cost me $119 + tx. Everything else is free, even the PC Silver account. I now use my account everywhere. These are points on essential expenses. What could be better?
Some people have accumulated up to 10,000,000 points. That's $1,000 that can be applied to groceries, electronics and even gift cards.
Trust me, it's worth it if you follow all these tips!