When it comes to investments, there's no shortage of tools available, all claiming to be the best for alpha traders. Is there one that truly rises above and offers new investors a gateway into the market, while helping experienced traders gain a true competitive edge?
Questrade is arguably Canada's best trading platform, for many reasons. In addition to low-commission trades, the platform offers detailed analysis, access to multiple stock markets, and both web-based and desktop software to make quick decisions. Here's everything you need to know before opening a Questrade account.
Multiple Accounts to Invest on North America's Biggest Markets
For Questrade, flexibility is key. The investing platform offers many different account types, including individual or joint accounts, tax-free savings accounts (TFSA), registered retirement savings plans (RISP), and registered retirement income funds (RIF).
The minimum to open an account at Questrade is $1,000, with no annual fees. If you decide to move an investment account from another bank, the brokerage will reimburse up to $150 in transfer fees per account.
One of the key advantages Questrade has over their competition is access to international markets. In addition to the Toronto Stock Exchange and other Canadian markets, members can also trade on two of North America's major markets: NASDAQ and the New York Stock Exchange. This seamless option gives traders access to hundreds of thousands of stocks, mutual funds and electronically traded funds (ETFs) in one place.
On top of this, investors have access to other valuable investment options. Users can add forex trading, precious metals, and contracts for difference (CFDs) to their portfolio, giving them multiple ways to grow their value.
Strong Research and Trading Tools Available Across Platforms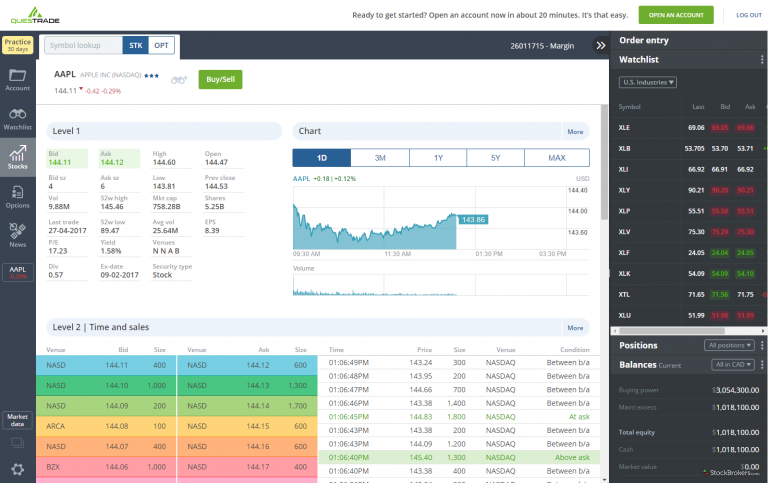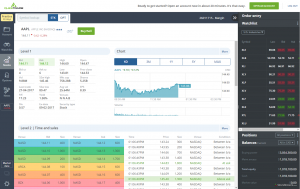 The fine line between gambling and investing is in the research. New investors simply cannot pick their favorite brands and hope for the best – rather, smart investing requires patience, research and observation to make the right decisions.
To those ends, Questrade offers two features to help get investors off on the right foot. The research center features the platform's Market Intelligence and Intraday Trader tools, which combine to give both new and seasoned investors the information they need to thrive.
Market Intelligence features analysis by Morningstar, one of the most trusted names in financial research. Users can get the most up-to-date information on the stocks and ETFs in both the United States and Canada, letting them align their risk tolerance with the best possible options. Questrade also offers research on mutual funds through their mutual fund centre, but is limited only to Canadian options.
This research platform translates directly into the three key trading tools available to users: the online IQ Web, the app IQ Edge and Intraday Trader. Working inside your browser, IQ Web provides a light investment platform that is both intuitive and quick. Even though it's a web-based app, novice users can track their investments day-by-day, while advanced users can access tracking, indicator and drawing tools to track investments and drive future gains. Don't worry about losing your work: the web-based app saves as you move along, giving you confidence every step of the way.
Those who consider themselves experienced traders get to take advantage of one of the best trading platforms available on the Canadian Market: Questrade IQ Edge. Available for PCs, power users can chart a path towards alpha trading through multiple tools. The charting tools, realized profit and gain calculators, screening options and in-app news alerts help traders maximize their money, no matter where the market goes. And when its time to buy an asset on the rise, or sell at a peak, the quick trade button gets investors ahead of the market.
If that weren't enough, power users can also map out scenarios using the online Intraday Trader tool. While it's not quite a "robo-advisor," this powerful platform helps traders identify opportunities and options using algorithms and AI-powered analysis. When paired with IQ Edge, Intraday Trader helps users identify the best opportunities for their money.
"Democratic Pricing" Keep Prices Low and Gains High
Although Questrade offers no annual fees on accounts, users will have to pay commissions on their trades. But through what Questrade calls "Democratic Pricing," traders have more control over how much they pay for buy, sell, and options orders.
The Democratic Pricing model is best for new investors, or those who are playing a long-term game with their funds. Stock trades cost $0.01 per share, with a minimum of $4.95 and a maximum of $9.95. Option trades cost a total of $10.95 ($9.95 per transaction and $1 per contract), while ETF trades are commission free.
For those who planning on doing a higher volume of trading, Questrade offers "The Questrade advantage" plan. First, users must purchase an advanced market data package at $19.95 per month, then choose between the variable plan or fixed plan. Like the Democratic Pricing model, the variable plan offers trades at $0.01 per stock, but has no minimum fee and a commission cap of $6.95. Options trade for $7.70 ($6.95 per transaction and $0.75 per contract), a discount of over $3.
The fixed rate plan is designed for those who will be trading at higher volumes of stock over time. Trades come with a flat $4.95 commission fee, while trade options are $5.70 ($4.95 per transaction and $0.75 per contract). In both plans, traders can invest in ETFs without any fees.
Bottom Line: Canada's Best Trading Platform
Unlike bank and brokerage offerings, Questrade is built to scale as users build long-term wealth. Through education, continual analysis, and alerts on important market shifts, Questrade is built for those who want to go beyond simple accounts, and actually build a financial legacy.
Hands down, Questrade is the biggest and best name all Canadian traders should consider as they jump into the investment market. With an abundance of tools available to both novice and experienced traders, along with access to multiple North American marketplaces, the Questrade platform is designed to help investors make the best decisions with their money.