Establishing and building credit is a rite of passage for all of us. Whether one is turning of age, recovering from extended financial difficulties, or have just moved to Canada, creating a credit file is the best way to ensure prosperity now and into the future.
With so many products promising to help Canadians build their credit with the two bureaus, it seems there's no shortage of options. But how many actually provide results? Moreover, how many can help you get the most from your resources.
Despite their name, Refresh Financial doesn't just provide products for those rebuilding credit. Rather, their suite of tools can help anyone develop a credit file that speaks to their financial responsibility. Here's what you need to know about Refresh Financial, and who should sign up for their services.
About Refresh Financial
Founded in 2013, Refresh Financial describes themselves as a company dedicated to "Financial Intelligence Training." Although they don't promise overnight success, they do offer products that can help Canadians across all the provinces to rebuild their credit profiles.
At the core of all their services is their Black Tier credit building product. In addition to seeing credit scores from both major credit bureaus – Equifax Canada and TransUnion Canada – it also offers debt calculators, score simulators, and other benefits.
But credit scoring and other simulators aren't enough to rebuild credit. To help build or rebuild credit, Refresh offers two complimentary financial products: a secured credit card, and a credit builder loan.
Refresh Financial Secured Credit Card and Credit Builder Loan
Both the Refresh Financial Secured Credit Card and Credit Builder Loan are secured by the user's own money. However, they apply to their client's lives in two different ways.
First is the Credit Builder loan, which doesn't look anything like a traditional loan. Instead of getting money up front and paying it back over time, clients pay a monthly fee plus interest into their loan. Throughout the life of their loan, Refresh Financial reports the on-time payments to the two credit bureaus, showing responsible credit usage. Once the loan is complete, clients get access to all their money saved up with Refresh Financial. Credit Builder loans range from $1,250 to $25,000, at an interest rate of 19.99%.
Learn more about Refresh Financial's loan options.
Refresh Financial also offers a secured Visa credit card, with credit limits ranging from $2,000 up to $10,000.
Refresh Secured Card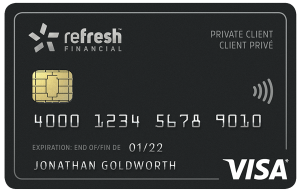 on Refresh's website
Credit Limit: $200 - $10,000
Annual Fee: $12.95 + $3/month maintenance fee
Interest Rate: 17.99%
Min. Income Required: $0
The card is "secured" by a deposit with Refresh Financial: Your credit limit will be however much you want to put on hold with the financial institution. Although this is an easy way to get credit, it comes with some fees and a relatively high interest rate. In addition to a 17.99% APR, users will pay a $12.95 annual fee and a $3 monthly administration fee.
Refresh Financial Packages: Walk, Crawl or Run
Depending on how fast you want to build your credit, Refresh Financial offers three packages: Walk, Jog or Run. Which one works best may be dependent on your budget. All three come with their Black Tier credit monitoring services.
The "Walk" package is their basic entry, which only consists of the secured credit card. For those who are on a budget, or don't have a lot to put towards a credit building program, this package could provide a strong first step into rebuilding credit.
Also intended for those on a budget, the "Jog" package consists of just the credit monitoring and the Credit Builder loan. This is ideal for those who may not have a lot of money to put forward to secure a credit card, but still want to start building their credit file.
The "Run" package combines both the secured credit card with their Credit Builder loan, giving clients two products that report to the credit bureaus each month. This product is intended for those who have some money to put towards building credit, and want to get the fastest start possible.
Who Benefits Most From Refresh Financial?
As part of their brand, Refresh Financial prides themselves in honest financial options for those on all budgets. Their transparency with fees gives them a competitive edge: Instead of obfuscating with double-talk and hiding their structure behind paywalls, those considering this option can see how much they will pay before signing up.
Signing up is equally transparent and easy. In a four-step process, users put in their personal information, validate their e-mail, select which package they want and confirm their identity. Getting started is a quick process, helping clients get back into the good graces of the credit bureaus.
However, there are some hurdles that all potential clients should clear. First, making the upfront payment for the secured credit card requires at least $200 down, while the credit builder loan requires a regular monthly payment. Before signing up everyone must take a close look at their budget to ensure this product fits into their financial lives.
Second, its important to be aware of how Refresh Financial is reviewed by users. While their website features reviews from satisfied users, their Better Business Bureau profile paints a different picture. As of this writing, the company has over 130 complaints and is not accredited by the BBB. However, their "A" rating gives them a solid foothold in the industry, speaking to the services they provide.
Users who have some money to spend towards rebuilding their credit would benefit most from Refresh Financial's innovative and unique approach to banking. Although they cannot replace the traditional bank experience, their options can get anyone a quick boost to building a credit file worthy of rewards credit cards, auto loans, and even mortgages.
Bottom Line: Refresh Financial Rebuilds Credit – For A Price
At the end of the day, Refresh Financial delivers what they promise: credit products that report to the two major bureaus each month. However, it all comes with a price. If you can afford the entry fee, Refresh Financial can help you learn about responsible finances and help you build the credit file you want.
Nothing comes easy in life, and Refresh Financial's no-nonsense, goal-oriented approach is refreshing in a sea of aspirational goals. If you want to start building credit quickly and smart, Refresh Financial may be the best product for you. But if you are only looking to make small improvements, a free credit tracking platform and smarter spending may be a better overall deal.
Get pre-approved for up to $50,000 in under 3 minutes
Get approved instantly, receive funds within 24 hours.
Start Now