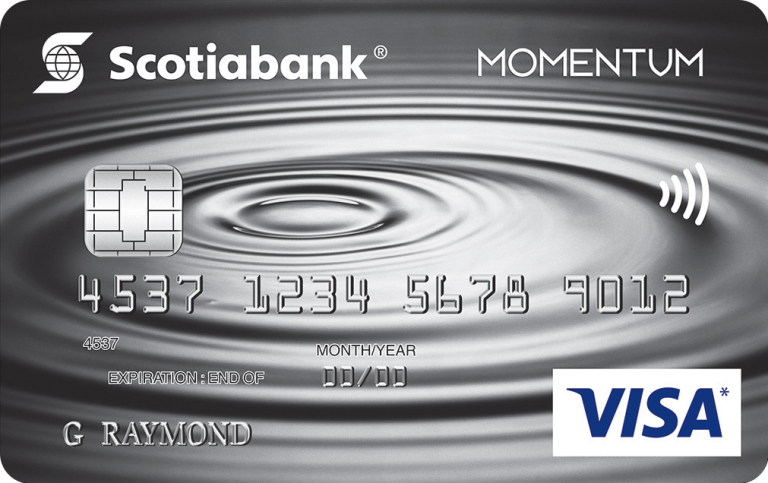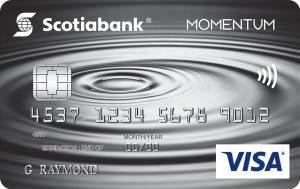 on Scotia Bank's website
Looking for a credit card with no annual fee? With the Scotia Momentum No-Fee Visa, you can earn a little cash back on purchases, without having to pay for the privilege every year.
Because this card doesn't require a Canadian credit history, it's suitable for those taking out their first credit card.
Annual fee: $0
Eligibility: No credit history required
Interest rate: 7.99% first six months; 19.99% afterward for purchases (22.99% on balance transfers and cash advances)
Features of the Scotia Momentum No-Fee Visa Card
1% cash back on eligible grocery, drugstore, gas station purchases and recurring bill payments
0.5% cash back on other purchases
Add a cardholder and get rewards on their card purchases
Optional credit protection if you lose your job or are disabled
Credit limit starts at $500
Swipe or tap to pay and save time at checkout
Save up to 25% on car rentals in Canada and the US at participating AVIS and Budget locations
Review of Scotia Momentum No-Fee Visa Card
For Canadians looking for a no-frills card, this one fits the bill. There aren't as many rewards as you might find on other cards, but there's no annual fee.
The card works well for anyone taking out their first credit card, since a Canadian credit history isn't required. The minimum limit is relatively low. Beginners can start with credit, without (hopefully) getting into too much trouble!
If used responsibly, the No-Fee Visa from Scotiabank can help build a solid Canadian credit history for the future.
It won't suit anyone who often uses their credit card. Other cards with higher cash-back and points rewards are better for frequent spenders. The lack of an annual fee isn't much of an incentive for them, since they generally earn back the fee on higher-reward cards.