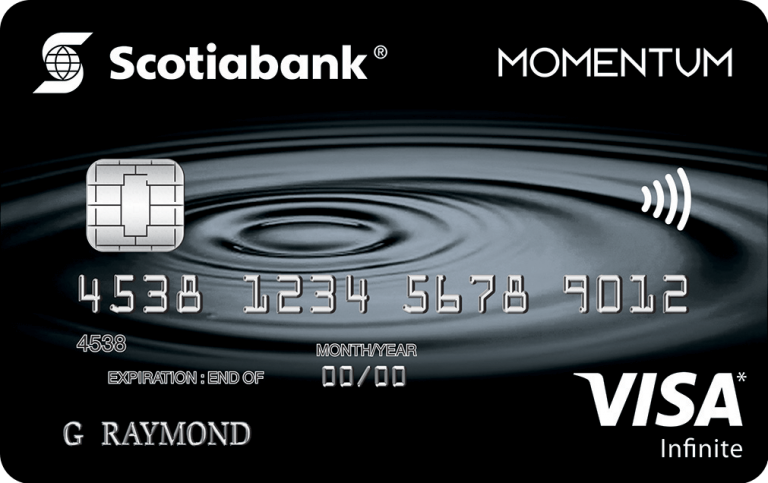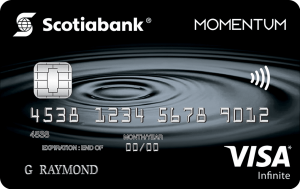 on Scotia Bank's website
The Scotia Momentum Visa Infinite Card provides cash back on daily transit purchases. Environmentally conscious Canadians might consider this card, even though the fee goes up at the same time.
Do you have a big grocery bill? This card offers you 4% back on purchases at grocery stores and supermarkets.
Those of you who enjoy unique experiences get access to VIP privileges.
Annual fee:  $120
Welcome Offer: 10% cash back on all purchases for first 3 months (up to $2,000). Plus, no annual fee in the first year, including on supplementary cards.
Eligibility: Minimum annual income of $60,000/household income $100,000. Or $250,000 in assets under management
Interest rate: 20.99% on purchases (22.99% on balance transfers and cash advances)
Features of the Scotia Momentum Visa Infinite Card
Additional cards cost $50
Eligible grocery store purchases and recurring bill payments earn 4% cash back
Eligible daily transit, drugstore and gas station purchases earn 2% cash back
All other eligible purchases earn 1%
Mobile device insurance has been added
New accounts will have the first year's fee waived (if opened by 10/31/2019)
Bonus perks of the Scotia Momentum Visa Infinite Card
Get VIP access: dining series, concerts (with access to the VIP lounge!), wine country experiences, and automatic room upgrades and free wi-fi for eligible hotel stays
Concierge service 24/7
Trip cancellation/ interruption insurance is available as of August. Other travel protection on eligible travel includes emergency medical, flight delay, delayed/lost baggage, rental car, and travel accident insurance
Review of Scotia Momentum Visa Infinite Card
It's not for everyone. In addition to a $5,000 minimum credit limit, the Scotia Momentum Visa Infinite Card requires a certain amount of income or assets under management at Scotia.
Canadians who have a lot of bills including groceries should definitely consider this card. Enough spending and the 4% cash back (up to $25,000) will more than pay for the relatively modest annual fee.
Those who take daily transit will appreciate the 2% cash back on their commute. Save the earth and some money!
Do you enjoy the finer things in life? Benefits include concerts, travel, and wine, plus concierge services. You'll have access to the VIP lounge at concerts, and actually meet some musicians. If you're a wine drinker, you'll enjoy free tastings, vineyard tours, and discounts on the wine.
Of course everyone could use the cellphone insurance, but it's especially helpful for those who buy expensive phones and tend to drop them!
Frugal Canadians and those who don't use credit cards very much should look for a different credit card that doesn't reward spending and/or doesn't carry an annual fee.