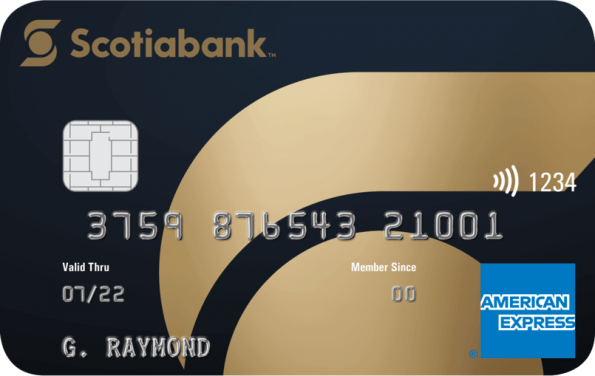 on Scotia Bank's website
The Scotiabank Gold American Express Card is the ultimate travel Card for Canadians who love to travel, want to earn rewards faster, and get cash back in exchange for everyday purchases.
As a Scotiabank Gold Cardholder, spend just $1,000 in the first 3 months and earn 25,000 Scotia Rewards bonus points.
Annual Fee: $120
Purchases Rate: 19.99% APR
Min. Income Required: $12,000
New to Canada? No credit history needed. Interest rates, annual fees, and features are subject to change without notice. Learn more about Scotiabank credit card fees and interest rates, and check out what's changing in August 2019.
Perks
Earn Faster
5x points for every $1 spent on eligible grocery, restaurants, fast food, drinking establishments, entertainment. 3x points for every $1 spent on gas, transit, and streaming services. 1x point for everything else. No FX Fees.
Travel Better
Redeem points for travel anytime, anywhere – no restrictions when you book travel through the Scotia Rewards Travel Service or any other travel provider, and your points don't ever expire.
Enjoy our Best Price guarantee on airfare (within 24 hours of booking)
Relax with comprehensive travel insurance coverage
Enjoy access to over 600+ VIP airport lounges around the world with Priority Pass™ membership
Save up to 25% off base rates at participating AVIS and Budget Car locations in Canada and the U.S.
Shop Wiser
Experience great music, theatre, dining, and shopping with American Express Invites™
Benefit from access to 24/7 concierge services, special offers, merchandise, rewards, and more
Scotia Rewards Benefits
Enroll in the Scotia Rewards Program and redeem your points for even more rewards.
Take advantage of brand-name merchandise rewards, or redeem your points for merchandise from Apple and Best Buy catalogues.
Choose from a wide selection of prepaid and gift cards
Redeem your Scotia Rewards Points for Credit
Book travel with Scotia Rewards Travel Service
Book travel with any travel provider and redeem points for all your trip expenses for up to 12 months after the travel purchase date with our Apply Points to Travel
If you have more than one Scotia Rewards Program Card, you can set-up a one-time transfer or an automatic Points Transfer
Convert points anytime between Scotia Rewards and SCENE or from SCENE to Scotia Rewards
Built-in Travel Protection
Scotiabank Gold American Express Cardholders enjoy a full variety of travel insurance features, including:
Emergency Medical Insurance: Up to $1 million each in emergency medical coverage. If you are under age 65 and are travelling for more than 25 days or if you are age 65 and older and travelling for more than 10 days, you may choose to purchase extension coverage from Scotia Assist prior to your departure.
Trip Interruption/Cancellation Insurance: Charge at least 75% of trip expenses to your Card and you're automatically insured for up to $2,500 per person (maximum $10,00 per trip).
Flight delay Insurance: You can be reimbursed for eligible living expenses lasting four hours or more, up to $500 per insured person on the same trip.
Delayed or lost baggage Insurance: Purchase tickets with your Card, and you are eligible for coverage for all insured persons on the same trip up to a maximum of $1,000 for lost luggage, and up to $1,000 for delayed luggage if it isn't delivered within 4 hours from the time you arrive at your destination.
Travel Accident Insurance: You are insured up to a maximum of $500,000, or to a maximum of $1,000,000 per occurrence when you charge at least 75% of your ticket cost to your Card.
Rental Car Insurance: When you charge the full amount of the car rental to your Card, you are insured for the amount you are liable to the Rental Agency, up to the actual cash value of the vehicle. The rental period cannot exceed 48 consecutive days or vehicles valued at over $65,000.
Hotel Theft Insurance: Charge your stay in any hotel or motel in Canada or the US to your Card and you are eligible for coverage up to a maximum of $1,000.

You too can enjoy all of the benefits that come with being a Scotiabank Gold American Express Cardholder, like a competitive interest rate on purchases, a fairly low annual fee of $99, price protection, and the opportunity to get a supplementary Card for a friend or family member for only $29 a year.
You can also enjoy the comfort that comes from knowing you're covered for life's unpredictable events (such as job loss, critical illness, or disability) with optional protection available at a low monthly premium rate of only $1.09 per $100 of the daily balance on your credit card account. Add to that comprehensive travel insurance, the ability to save time at checkout with ApplePay, and added perks with the Scotia Rewards program, and you have a Card definitely worth looking into.