Tangerine Money-Back Credit Card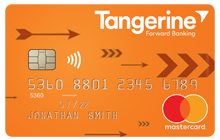 on Tangerine's website
Welcome Offer: choose up to 3 categories and receive a 4% cash back on those for the first 3 months.
Earn Rate: 2% cash back on your selected categories, and 0.5% on everything else.
Annual Fee: $0
Min. Income Required: Personal $12,000
Tangerine bank offers one of the hottest no-annual fee money-back credit cards in the Canadian market today. While most cashback credit cards limit their rewards to one or two categories, while narrowing the offer even more with a monthly spend cap, with Tangerine Money-Back Credit Card there is no limit on the cash-back earnings you stand to earn.
And, there's more: You get to pick the bonus categories for cash back, and you can customize your choice to your shopping needs. Tangerine Money-Back credit card offers personalization capabilities like no other. You would never feel stuck in a preselected bonus category which is one of the biggest reasons behind this card's popularity.
Annual fee: $0
Interest: 19.95%
Promotional Balance transfer interest rate: 1.95% interest for the first 6 months (19.95% after that)
Balance transfer fee: 3.00% of the amount transferred, or minimum of $5.00
Cash advance: $3.50 within Canada, $5.00 outside Canada
Interest on Cash Advances: 19.95%
Minimum Personal Income Requirement: $15,000
Key Features at a Glance
Apply by July 31st, 2019 to receive a welcome cashback bonus of 4% in 3 categories for your first 3 months
Receive 2% cash back rewards in two of the 2% categories which include grocery, furniture, restaurant, hotel/motel, gas, drugstore, entertainment, transportation and parking, home improvement, and recurring bill payments.
Earn 0.50% cashback on all the other everyday purchases
Deposit rewards into your tangerine savings account to unlock a 3rd 2% moneyback category
Earn cashback automatically with every purchase. Your rewards can be used to pay off your credit card balance or redeemed into your savings account
There are no limits on the amount of money back rewards you can earn
New users enjoy 1.95% interest on balance transfers made during the first 30 days of account opening. This promotion stays active for 6 months. After that, the interest rate increases to 19.95%
Get free cards for authorized users added to your account
Benefits and Perks
Purchase Assurance- If you purchase something using your Tangerine Money-Back Credit Card, you have a lifetime coverage up to $60,000 which is there to automatically cover your insured items against loss, theft or damage for its first 90 days.
Extended Warranty- Extended warranty benefit doubles the warranty period on qualified items up to 1 year.
Tangerine Money-Back Credit Card Review
Tangerine Money-Back Credit Card is a no-annual fee card that offers significant rewards on categories that traditionally aren't covered by the majority of credit card companies in Canada.
This card provides 2% cashback on the following categories: restaurants, groceries, gas, parking, recurring bills, drug store, entertainment, hotels and motels, home improvement and furniture purchases.
New users who sign-up by July 31st, 2019 receive a whopping 4% money-back in 3 of the 2% categories mentioned above for their first 3 months. After that, the money-back reward reduces to a not-too-shabby 2% in two of the 2% categories of your choosing. Any purchases that falls outside the chosen categories will reap you 0.50% in cashback rewards.
Another cool highlight of this card is its effort to incentivize saving habits. If you open a Tangerine savings account (its free) and deposit your cashback earnings into your savings account, you get rewarded with the ability to select a 3rd 2% moneyback category.
You can swap your category-picks any time but the changes take 90 days to take effect. So, its advisable to only switch categories if you will be making significant changes to your shopping habits. Tangerine will also personally suggest categories you should take advantage of to maximize your earnings.
With Tangerine Money-Back Credit Card, your rewards are available to be redeemed every month. There is no redemption minimum. If you have a tangerine savings account, your rewards will be deposited there. If you don't have a savings account, then your rewards will be applied to your credit card statement.
When you look at the interest rates, Tangerine's credit card offers a 19.95% annual interest rate on purchases which is very comparable to other cards. For the first six months, new users only have to pay 1.95% interest on balance transferred within 30 days of getting the card.
Also, this credit card's low income requirement makes it perfect for students, or people unable to meet the standard $60,000 income requirements found in most other credit cards of this caliber.
Tangerine Money-Back Credit Card is most suited for shoppers who are currently stuck using credit cards with limited categories or 1% in rewards. It is also perfect for those who would like to redeem their rewards every month instead of waiting once a year, and those who don't earn $60,000 annually. And it's no annual fee is the cherry on top that makes this card an absolute steal for just anyone.