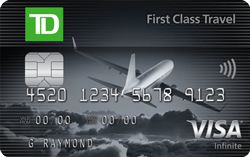 on TD's website
For frequent-travellers, using a travel credit card can help make trips rewarding in more ways than one. With the right reward-based credit card, you can offset common travel-related expenses like airfare, lodging, transportation and more.
TD First Class Travel Visa Infinite is a credit card specifically tailored to Canadians who travel frequently for business or pleasure. This card is the product of a leading Canadian bank–TD Canada Trust– whose portfolio is already adorned with many credit cards popular throughout Canada.
With its generous welcome bonus, an attractive dollar-to-point reward system,  comprehensive travel insurance options and a myriad of other perks, TD First Class Travel Visa Infinite might just be the travel credit card you are looking for.
Annual Fee: $120 (first year free)
Interest Rate: 19.99% (22.99% for cash advances)
Minimum Income Required: $60,000 personal income, or Household Income: $100,000
Credit limit: $5,000 minimum
Key Features At A Glance:
Get a full Annual Fee Rebate and earn up to 60,000 TD Points
Receive the full welcome bonus of 20,000 TD points after the first purchase with your card
Redeem your points for travel-related purchases or gift cards from TD's e-store or cash out the points to your account.
Earn 3 TD points per $1 spent on purchases using your card.
Redeem 9 TD points per $1 for travel purchases made online through ExpediaforTD. These points must be redeemed in a minimum 200-250 point increments.
No expiration. Claim your TD points whenever you want.
Auto-rental collision and loss damage Insurance coverage available for 48 consecutive days.
Save 10% on Avis Rent-A-Car and Budget Rent-A-Car.
Benefits and Perks:
Planning a trip in advance can take away a lot of risk that comes with travelling, but there is still an element of uncertainty involved.  Being prepared to tackle expenses resulting from unexpected events can save you a lot of headaches when on the road. One of the most striking features of TD First Class Travel Visa Infinite card is its extensive insurance solutions that touches all common risks that can come with travelling.
Travel Medical Insurance- Get up to $1million of coverage for the first 21 days of your trip for those under 65, or first 4 days for those who are 65 or older.
Trip cancellation/Interruption Insurance- If you paid for your trip using your TD credit card and/or TD points, you can take advantage of up to $1,500 of coverage for each insured person with a maximum of $5,000 for all insured people. If something unexpected happens during your trip that requires you to return home, you can reimburse your losses through the trip interruption insurance policy which provides up to $5000 of coverage per insured person, with a maximum of $25,000 for all insured people on the trip.
Common Carrier Travel Accident Insurance- This provides coverage for losses incurred while traveling on a common carriers such as flight, bus, train, or auto rental. This policy gives you up to $500,000 of coverage.
Emergency Travel Assistance Services- Need assistance while on your trip? Just call their toll-free emergency line and they will send help to you right away.
Delayed and Lost Baggage Insurance- This credit card provides up to $1,000 as compensation if your baggage is lost or delayed for more than six hours.
Priority Pass Membership discount- This is a service provided by Priority Pass to all the TD traveler credit card holders in Canada. You can receive an annual discount of 20% on your priority pass membership.
Auto Rental Collision/ Loss Damage Insurance- For those paying for rental car with their credit card or TD Points, you are covered for 48 consecutive days.
Get discounts on car rentals- If renting a car from Avis Rent A Car or Budget Rent A Car System in the US and Canada, you can get a minimum of 10% discount off the lowest available base rate, and at least 5% off internationally on selected car rentals.
TD Auto Club Membership- This 24/7 roadside assistance service is provided by AXA Assistance Canada Inc for those who may find themselves in a roadside emergency anywhere in Canada or Continental U.S.
Balance Protection Insurance- This insurance is designed to help reduce the burden of TD Credit Card payment obligation in an unforeseen event such as covered involuntary job loss, total disability, critical illness (acute heart attack, cancer, stroke), loss of life or dismemberment. It offers a maximum amount of insurance of $25,000.
Emergency cash advances-you can ask for a cash advance to up to $5000 for your TD first class travel visa infinite card.
TD First Class Travel Visa Infinite Card Review
One of the biggest benefits of TD First Class Travel Visa Infinite Card is its generous sign-up bonus of 60,000 points.
TD First Class Travel Visa Infinite allows Canadian travelers to earn reward points on everyday purchases which can be later redeemed to make travel related purchases including flights and hotels. For travel related purchases made through ExpediaForTD.com, you earn 9 TD points per dollar, which is a cool 4.5% in rewards. If you are making your travel purchases through Expedia for TD by phone, then you can earn 6 TD points for every dollar spent.
Note that ExpediaforTD offers the same flights and hotel options  that is conventionally found on Expedia Canada, so don't think you will be limited on options for which flights or rooms you can access.
TD First Class Travel Visa Infinite does offer year-round rewards on everyday purchases made outside Expedia for TD. The reward offered is 3 TD points per dollar which equals to 1.5% savings. As you can see, this card greatly incentivizes travel related purchases more than general spending.
If you are someone who doesn't travel frequently and wants a credit card to reward you primarily on everyday purchases like groceries, dining, and gas, then this credit card might not be the best fit for you.
This card has an annual fee of $120 which can be waived for the first year for the primary cardholder. You can also get your annual fee waived if you are an All-Inclusive Banking Plan Customer which requires you to maintain at least $5000 in your account. If your balance falls below the required threshold, you will be charged $30 for that month— which, over the months, can end up costing more than the annual fee.
If you want an authorized user, like your spouse,  to able able to make purchases using your account, an additional $50 will be charged. Also, note that the income requirement for this credit card is $60,000 per individual or $100,000 per household. This amount is slightly higher than the minimum income required to qualify for other credit cards solutions offered by  the bank.
TD First Class Travel Visa Infinite comes with an annual rate percentage of 19.99%. But that shouldn't matter much provided you regularly  pay your monthly balance in full.
Also, this travel credit card comes with a full suite of travel insurance benefits ensuring that you can embark on your trip knowing you are protected against any unexpected emergency. It provides medical coverage of up to $1 million for you and your family for 21 consecutive days or 4 days if you are 65 years or older. It also offers trip cancellation or interruption insurance, travel accident insurance in case of emergency while in transit on a common carrier like plane, ferry or rental car. Furthermore, this premier credit card offers $1,000, if your baggage is lost or delayed for over 6 hours.
To hedge yourself against the risks of the road, you can take advantage of the robust auto rental insurance that provides coverage for 48 consecutive days. Also, the savings of 10% in discounts when using your TD credit card to rent vehicles from Avis or budget rental car agencies can significantly lower your transportation expenses.
Lastly, TD First Class Travel Visa Infinite cardholders get to enjoy a 20% discount on the Priority Pass memberships, which has a regular price of $99 USD.