How much should I invest to start with? Do I put all of my money into one or two stocks? What are ETF's? How do I balance my portfolio? What does a balanced portfolio even look like?
These are questions that all first-time investors have when they're just getting started. It's why millions of Canadians are turning to robo advisors like Wealthsimple for an automated, hands-off, low-fee approach to investing.
In this Wealthsimple review, we'll take an in-depth look at what's now considered to be the top rated robo advisor in Canada today.
What is Wealthsimple?
Wealthsimple launched in Canada in 2014 as an automated investment service (robo advisor). They help Canadians invest their money and build smart, zero-maintenance portfolios. Basically, they make investing much easier (and cheaper) than it used to be.
Wealthsimple also offers two other products: Wealthsimple Cash (their high interest savings account) and Wealthsimple Trade (their online investing platform that lets you choose your own stocks to invest in).
How does Wealthsimple work?
Wealthsimple's slogan is "investing on autopilot" and it's the perfect explanation of how Wealthsimple works.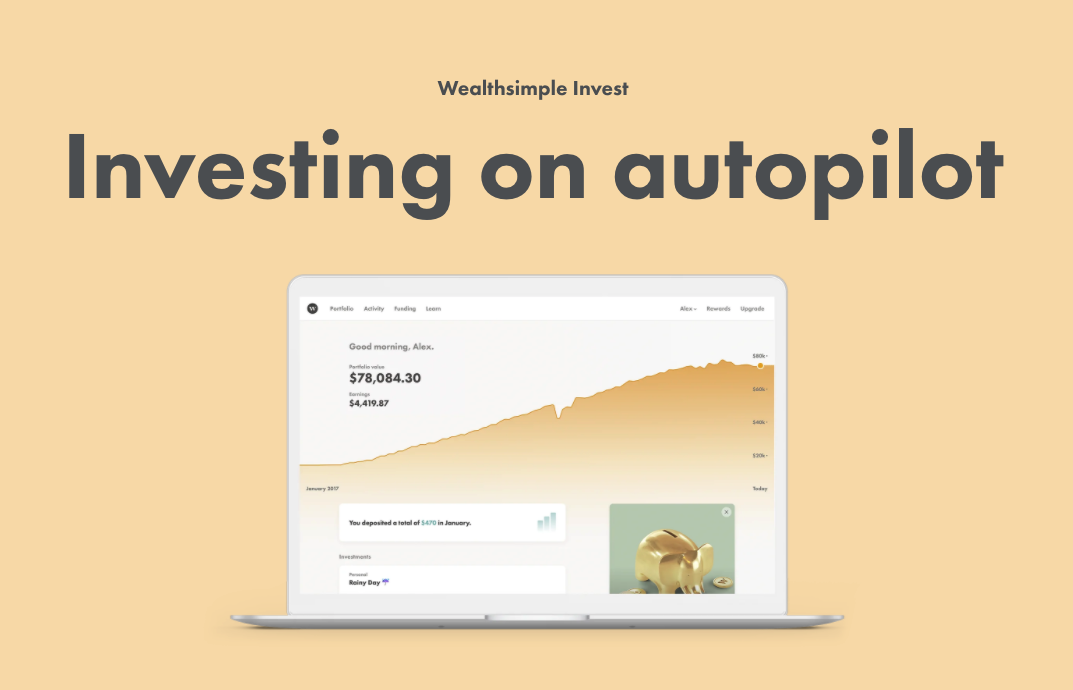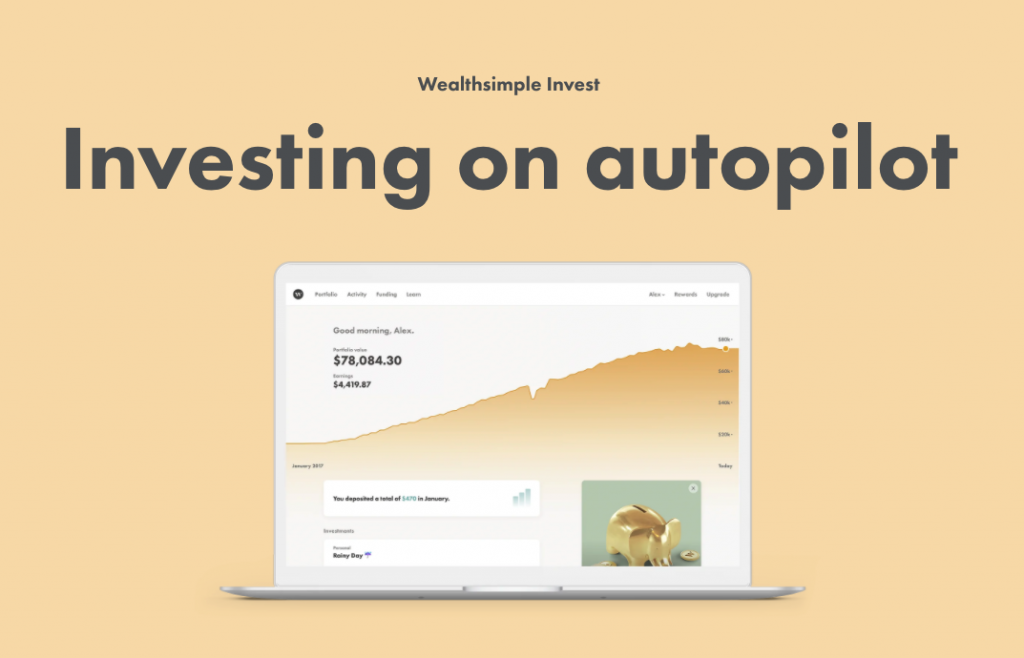 To put in simple terms, robots will invest your money for you. That might sound scary at first, but these aren't just any kind of robots. They're a lot smarter than most humans and have outperformed many of the top fund managers in the world.
Their core product, Wealthsimple Invest, builds investment portfolios consisting of exchange-traded funds (also known as ETFs). You choose the risk level you're comfortable, and Wealthsimple will choose the best ETFs to invest in, and build your portfolio for you. Overtime, Wealthsimple robots analyze your current positions, the market, future outlooks, and adjusts your portfolio accordingly.
Wealthsimple runs on the Modern Portfolio Theory which states that in order to minimize volatility and maximize returns you must diversify assets instead of putting all your eggs in one basket. It's a Nobel Prize winning investment principle that proves effective for long-term investors.
How does risk level work?
You will be built a portfolio based on your risk profile, which will be either conservative (65/35 between split stock/bond), balanced (50/50 split between split stock/bond) or growth (80/20 split largely favoring stocks). Wealthsimple will distribute your funds across a diverse mix of low-fee exchange-traded funds (ETFs) that span across thousands of different companies in several industry verticals. Along with developing your investment portfolio, Wealthsimple also manages and maintains these investments, so your portfolio stays healthy even as your asset changes value.
For example, here's a portfolio that's been set to the maximum risk level.

And here's a portfolio that's been set to the minimum risk level.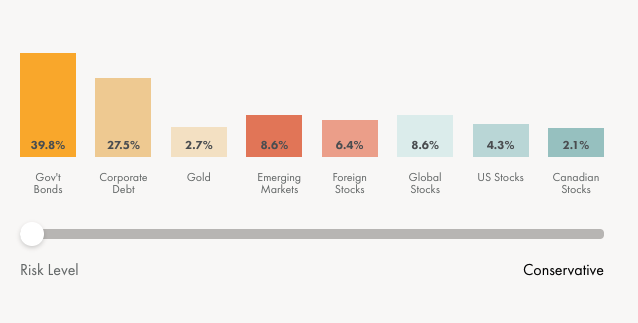 As you can see, higher risk portfolios consist mainly of individual stocks and more volatile ETFs than lower risk portfolios. If you're looking for maximum growth on your money and are able to handle swings in the market without panicking, then higher risk levels could be for you. But if you're looking for safer, slower, long-term returns then a low risk portfolio consisting mainly of bonds is probably a better fit for you.
Who can use Wealthsimple?
Any Canadian over the age of 18 can start investing with Wealthsimple.
You can build your portfolio on any of the following account types:
RRSP
TFSA
Personal/Taxable
RESP
RRIF
LIRA
Joint
Corporate
Key features of Wealthsimple
Wealthsimple offers their services across 3 pricing tiers: Basic, Black and Generation. The amount you deposit will dictate which tier you qualify for.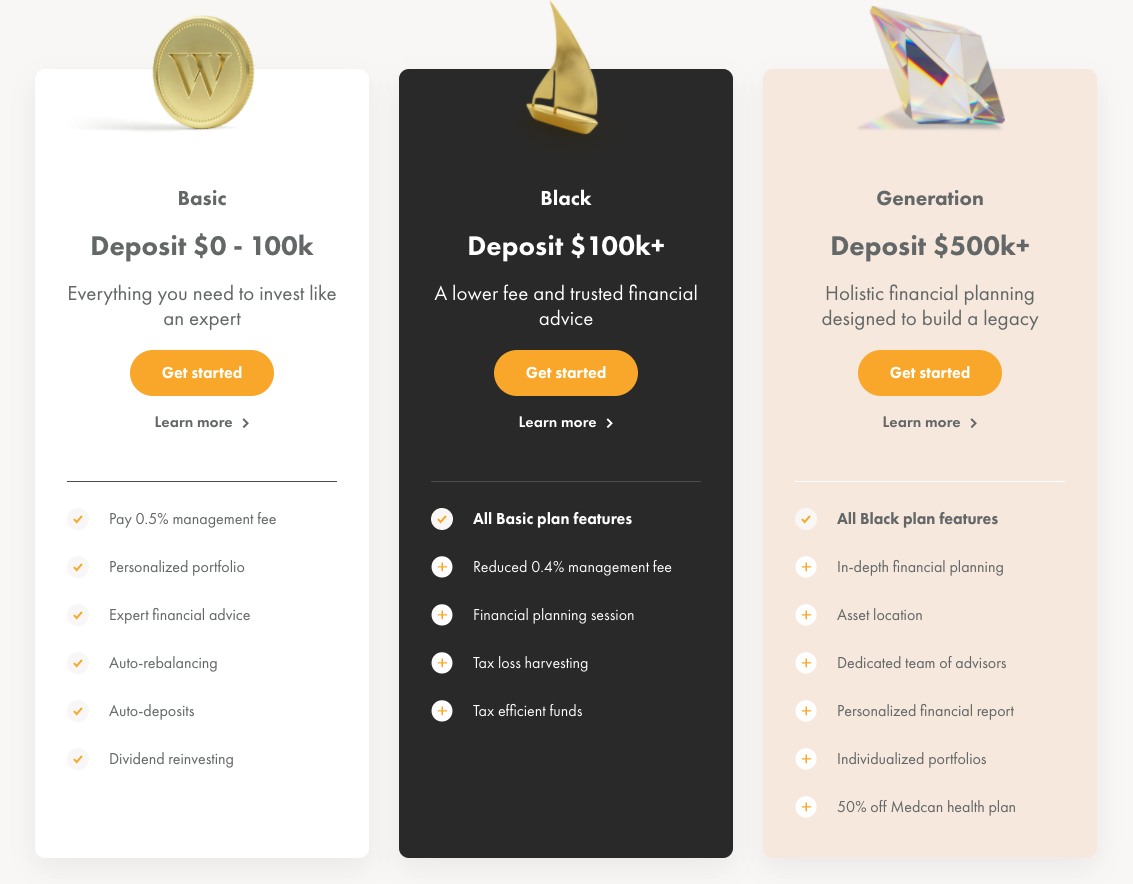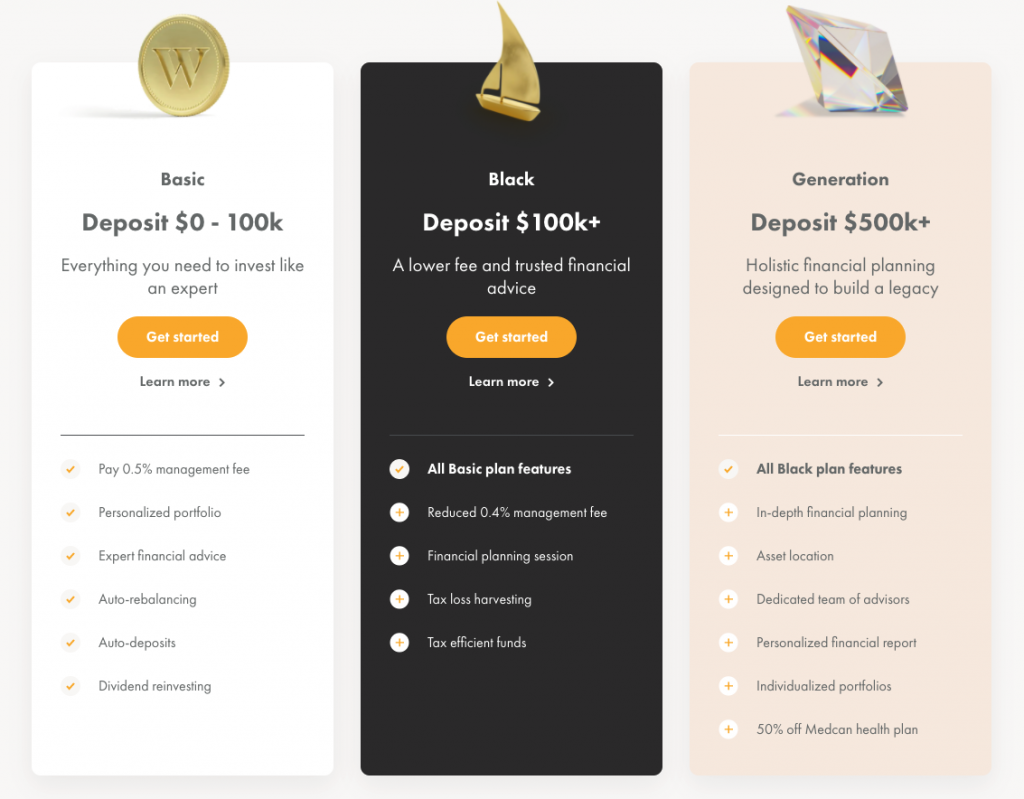 Wealthsimple Basic has no minimum deposit requirement, with a management fee of 0.5%. This is the account that the majority of people start with. Fees are 0.1% higher than the other tiers but at this investment amount, that shouldn't be a significant difference. You'll also get access to financial help with Wealthsimple's investment experts if you have any questions.
Wealthsimple Black has a minimum deposit of $100,000, with a management fee of 0.4%. Once you hit a balance of at least $100,000 you'll qualify for Wealthsimple Black, which gives you everything from Basic plus a free financial planning session with one of their experts, and also the option for tax loss harvesting.
Wealthsimple Generation has a minimum deposit of $500,000, with a management fee of 0.4%. Once you hit a balance of at least $500,000 under management with Wealthsimple, you'll get invited into their Generation tier. You'll get your own dedicated team of advisors, a customized financial plan, and more investment options not available in the other tiers.
View all tiers on Wealthsimple
Let's look at the features of each plan individually.
Wealthsimple Basic
Deposit requirement: $0-100k
Wealthsimple management fee: 0.5% per year
Automatic rebalancing: Wealthsimple maintains your portfolio allocation through market fluctuations which can otherwise cause the securities in your portfolio to appreciate or depreciate in value over time.
Expert financial advice: You can call, text or email their advisers  with any questions.
Auto deposits: Automatically transfer a certain amount of money from your bank account to your Wealthsimple investment account on a regular interval. Automatic deposits help to make your contributions hands-off, allowing you to set it up once and let it do its thing. You never have to miss a contribution again just because you forgot or didn't have the time to manually transfer an amount.
Dividend reinvesting: Your dividends are reinvested back into securities so you don't have money sitting idle.
Portfolio review: A free service offered by Wealthsimple where expert advisors review your portfolio to find the weak spots and help you fix it for the long term.
Wealthsimple Black
Wealthsimple Black is for larger investors. In this tier, you get all the features associated with the Basic plan, and…
Deposit requirement: $100k+
Wealthsimple management fee: 0.4%/year
Financial planning session: Consult with a real advisor and get their expert opinion on how to meet your financial goals, and also have them help you stay on track.
Tax loss harvesting: Lower your tax obligations on your investment gains by offsetting it against investment losses.  By selling a security that has undergone a loss, your portfolio is able to offset the taxes on your gains.
Tax efficient funds: Reduce your tax liability by investing in only tax-efficient funds.
VIP airline lounge access: Get access to over 1000 VIP airline lounges in more than 400 cities.
Wealthsimple Generation
Wealthsimple Generation are for individuals with a high net worth who are serious about growing their legacy and preserving their wealth. In this tier, you get all the features of Wealthsimple Black, and…
Deposit requirement: $500k+
In-depth financial planning
Asset location: Put your investments in proper account to gain maximum tax efficiency
Dedicated team of advisors: Get access to Wealthsimple advisors on-call for a 0.4% management fee.
Personalized financial report: Wealthsimple designs a personalized financial report that's customized to your goal, whether it is to create a strategy for retirement or to increase savings. The report includes factors such as net worth, financial projections, cash flow analysis, and actions that must be implemented to reach your set goals.
Individualized portfolios: Get a personalized portfolio built for your unique financial situation and goals.
50% off Medcan health plan: Get 50% off a comprehensive health plan from Medcan.
Wealthsimple's Principles
Wealthsimple encourages value-based investing that enable user to invest in companies that align with their life principles. If this is you, you'll find two different portfolios that you could select based on principles: Socially responsible investing, and Halal inesting. Let's take a look at each one below.
Socially responsible investing
With Wealthsimple's SRI option, you can make the world a better place by investing your funds in ETFs that are assessed for their environmental and social impact.
These socially responsible companies prioritize these 6 factors:
Carbon exposure: Companies promoting low carbon exposure
Gender diversity: Companies with increased gender diversity among their leadership roles
Cleantech: Focuses on clean technology innovators
Local initiatives: Bonds issued by municipalities to support local investments
Socially responsible US companies: Focuses on socially responsible American companies
Affordable housing: Focuses on government issued securities that enable affordable housing
Halal investing
This feature of Wealthsimple helps their Muslim investors build shariah-compliant portfolio that is in accordance with Islamic principles of investing. The Halal investing portfolio contains over 50 stocks that have been screened by third-party committee of Shariah scholars.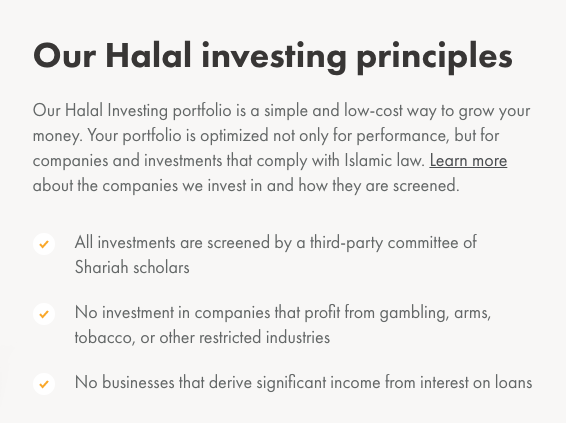 They have ensured that no investment is made in companies that profit from gambling, weapons, tobacco or other restricted industries, and businesses that obtain their maximum income from interest on loans are also excluded. The Shariah Compliant portfolio is mixed with a combination of individual stocks to minimize risk and maximize rewards.
What we like about WealthSimple
Puts every penny to work
Wealthsimple's round-up features ensures that your every penny counts. By turning on the round-up function in their app, whenever you make a transaction using any of your cards, Wealthsimple rounds up the purchase amount to the nearest dollar, and you can use that spare change as an investment. The idea is that the spare change, although a small amount now, will add up over time.
Helps you feel good about investing
While other investing platforms, like Betterment and Wealthfront, are now offering SRI portfolio options, it is still quite rare in the robo-advisor space. There are many investors who want their rewards to go beyond money. They want to generate profit by investing in companies whose ethics match their own. Wealthsimple makes it very easy to do so with their ETFs that is comprised of companies involved in cleantech, carbon exposure reduction, those supporting gender diversity in executive roles, securities that facilitate affordable housing, and bonds supporting local investments.
Minority-inclusive
Many Muslim investors end up having to build and manage their own portfolio to ensure their securities are in accordance with the Islamic laws.  Wealthsimple offers an actively managed portfolio specifically catered to their Muslim customers that contains about 50 individual stocks (different from ETFs), each screened and approved by a third-party committee of Shariah scholars. Customers with low-risk tolerance are recommended to hold the majority of their assets in cash when investing in Halal Investing portfolio. In a country as diverse as Canada, this marquee feature is a much needed addition to the investment space.
Start with as low as $1
Another strong pull of Wealthsimple that we love is that it has very little cost of entry. Most investment firms require you to make a deposit of $2000 – $5000 to get started. But Wealthsimple has no such minimum requirements, making it perfect for beginner investors who don't have a lot of capital upfront. You can start with as little as $1.
Free portfolio review
You don't even have to sign-up to use this feature. If you upload your statement from any of your investment account, a Wealthsimple analyst will examine your portfolio and give you their expert opinion on your investment allocation, fees and other factors.
Free Stock Trades
This feature is exclusive to Canadians at the moment. With their Wealthsimple Trade app, you can buy and sell over 8000 stocks and ETFs listed on major Canadian and U.S. exchanges without being charged any commissions on trades. They are able to keep the trade commision-free since the operating cost of running this feature through an app is significantly lower than when compared to a traditional bank offering trading services.
Free Retirement Calculator
Wealthsimple offers a free retirement calculator to help you determine how much you need to save for retirement based on your current financial situations. It will answer pertinent questions such as how much you need to retire in Canada, how much you should have saved for retirement, how much you will have when you retire and more.
What we don't like about Wealthsimple
There really isn't much to dislike about Wealthsimple. Experienced investors who prefer to build their portfolios themselves critize Wealthsimple's higher transaction fees compared to DIY trading platforms like Questrade.
However, using Wealthsimple once doesn't mean you're stuck with robo investing forever. You can allocate some or all of your funds into another platform whenever you feel comfortable building your own portfolio.
Wealthsimple: Who is it for?
Wealthsimple is the perfect gateway into the world of investing. Getting started with investing can seem confusing and daunting. As a result, you might be putting off visiting your local bank and setting up a stock trading account in person. With Wealthsimple, everything is done online and you don't even need to speak to a human if you don't want to.
So who should use Wealthsimple?
New investors who want to start investing but don't know where or how to get started.
New investors who want to learn the world of investing.
Investors who prefer a set it and forget it type of investment account and don't want to manage their own portfolios.
Investors who want to keep money saved away, but want to earn more interest than a typical savings account can use their lowest risk portfolio.
Conclusion
Where Wealthsimple shines the most is in its diverse portfolio choices that include speciality portfolio offerings and it's unlimited access to certified financial planners no matter your account type. Their basic portfolio model contains features that are found in many other Robo investing platforms, such as tax loss harvesting, automatic rebalancing, dividend reinvest thing, automatic deposits and more. Starting with WealthSimple is extremely easy because it has no minimum required deposit and it also provides a live customer support.
The platform is easy to use and navigate even on mobile,  and Wealthsimple as a company is extremely transparent in terms of management fees. They also don't charge and inactivity fee if your accounts it idle for prolonged periods of time.
The only major drawback of Wealthsimple is its management fee on accounts under $100,000. Their fee is higher than many other Robo Advisers including Betterment and Wealthfront. But Wealthsimple does offer a great value for accounts with higher deposit at a competitive management fee. This platform is recommended for investors who have at least $100,000 to invest. Smaller investors who don't mind paying a little extra for the seamlessness of automation and human touch that Wealthsimple provides also stand to gain a lot from this platform.